EURUSD The Final Leg of the Contracting Triangle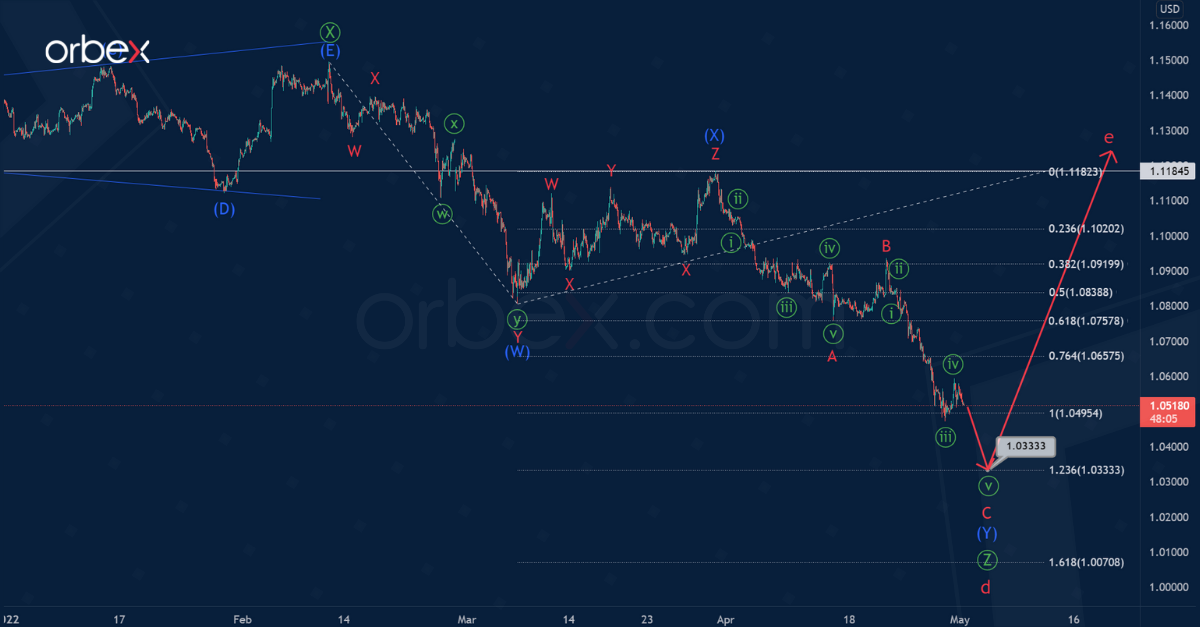 The EURUSD currency pair is forming a horizontal pattern. Most likely, a contracting triangle a-b-c-d-e of the cycle degree is under construction.
At the time of writing, a bearish wave d is developing, which is a complex triple combination Ⓦ-Ⓧ-Ⓨ-Ⓧ-Ⓩ. The current chart shows the internal structure of the last primary wave Ⓩ.
Wave Ⓩ could take the form of an intermediate double zigzag (W)-(X)-(Y), where wave (W) is a double zigzag, and wave (X) is a triple zigzag. Currently, the last actionary sub-wave (Y) is developing, which can have a simple structure and take the form of a zigzag A-B-C.
It is likely that the minor zigzag will reach 1.033. At that level, intermediate wave (Y) will be at the 123.6% Fibonacci extension of wave (W).
Alternatively, the construction of a bearish triple zigzag of the primary degree can be fully complete. The entire correction d has also come to an end.
Therefore, now the market is in a reversal, and the beginning of price growth and the development of a cycle wave e is possible soon.
The approximate internal structure of the cycle wave e is shown on the chart. It is likely that it will be a simple zigzag Ⓐ-Ⓑ-Ⓒ and will end near the price mark of 1.118. At that level, wave e will be at 38.2% along the Fibonacci lines of wave d.
Join our responsible trading community - Open your Orbex account now!