EURUSD weighed down by ECB inaction
The euro struggles as the ECB lags behind the Fed in tightening policy. US Fed policymakers have signaled their intention to meet inflation head-on with several rate hikes. Due to worries over stagflation and troubles in the East the single currency continues to be undermined.
Price pressure remains stubbornly high in the eurozone and sees no sign of turning south in the near future. This might force the ECB to kickstart monetary normalization.
Until then, Fed hike expectations would support the greenback at the expense of a low-yielding euro. The pair hit resistance at 1.1160 and is heading to 1.0810.
GBPUSD recovers as inflation to stay
The British pound strengthened over stubbornly high inflation. The Bank of England's failure to achieve unanimity in its latest hike may not deter traders from raising their expectations. Consumer prices in February jumped to 6.2% from 5.5% a month before.
The central bank has warned that UK inflation could rise over 8% this year as energy and goods prices soar. Markets are already pricing in that the BoE may shift up a gear and lift its interest rate above 2% by the end of the year.
The pair saw solid support on the psychological level of 1.3000. 1.3430 is the resistance from the March sell-off.
XAUUSD rallies as Russian sanctions mount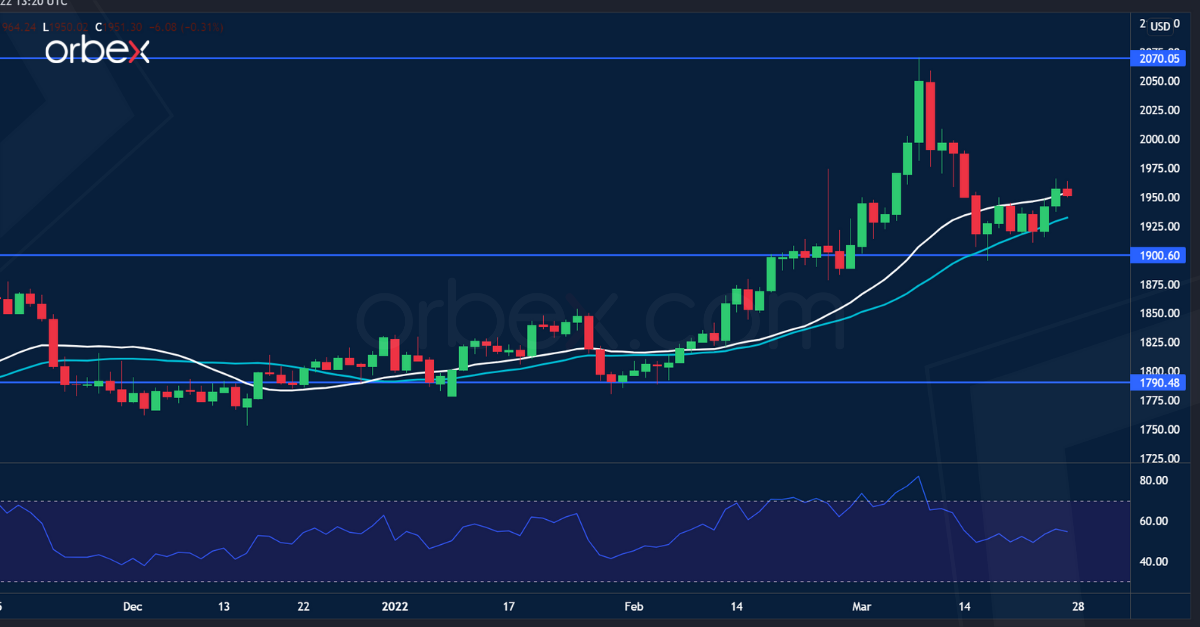 Gold steadies as the West rolls out a new set of sanctions against Russia. As the Fed vows to go all-in in addressing inflation, markets have raised their bets of 50 bp interest rate increases from 25 bp previously.
Soaring Treasury yields would normally translate into a higher opportunity cost of holding the non-yielding metal. However, the fact that the price action has held well suggests that the Russia-Ukraine situation is the main driver of safe-haven bullion. New developments could trigger sharp price swings.
The metal has bounced off the psychological level of 1900 and the bulls are pushing towards the recent peak at 2070.
US 500 treads water over hawkish Fed
The S&P 500 seeks to recover from its correction amid high-interest expectations. Equity markets have grown cautious following hawkish comments from the Federal Reserve. Policymakers have echoed Chair Jerome Powell's comment about a more aggressive stance, hinting at a 50-bp rate hike on the table before summer.
Sentiment-wise, record inflation and the prospect of an economic downturn especially in Europe keep investors on their toes. The latest natural gas deal between the EU and the US could alleviate fears of an energy crisis.
The index is about to test February's high at 4590. 4400 is the closest support.
Have you been testing your strategy on a Demo Account? Sign up now and begin practicing!