NAS 100 sinks as high yields hurt growth
Nasdaq has erased gains from the last three months as worries over rising long-term interest rates grew. Tech stocks are the hardest hit as investors rotate their capital into bonds and value stocks.
While tech's high valuation has prompted a wave of profit-taking, stocks in traditional areas like energy and hospitality have bounced back in anticipation of a normalized economy.
Though it might be too soon to say that growth stocks have lost favor. 12200 is the next stop as the correction goes on. A failure to rebound could trigger a 20% drop to 11000 from February's high.
On the upside, a recovery will need to lift 13320 first.
EURUSD pauses as ECB policy looms
The euro came off its three-year high as traders look for divergence between the two economic entities. ECB officials' recent comments led to believe that the central bank may adopt a 'too much is better than too little' policy by maintaining its liquidity support.
While across the Atlantic a drop in jobless rate last month further raised the hope that America is getting back on its feet, such a dovish stance could weigh on the single currency.
The bearish RSI divergence at 1.2350 already suggests a deceleration in the rally's momentum. 1.1900 is the intermediate support and its breach could trigger a sell-off into the 1.16s.
UK OIL rises on tight supply
While most commodities came under pressure from a soaring US dollar, oil prices continue on their upward trajectory thanks to tightly controlled supply.
OPEC+ has extended output cuts into April as global demand slowly recovers. As long as US shale producers don't undercut their efforts, prices may stay well-supported.
Now that the Brent crude is reaching January 2020's high, the supply gut will need to be enforced to contain profit-takings.
The price is likely to meet stiff selling pressure near 71.00 from those who rode the ten-month-long recovery. 62.00 around the rising trendline is the immediate support in case of a retreat.
USDCAD dips on oil rally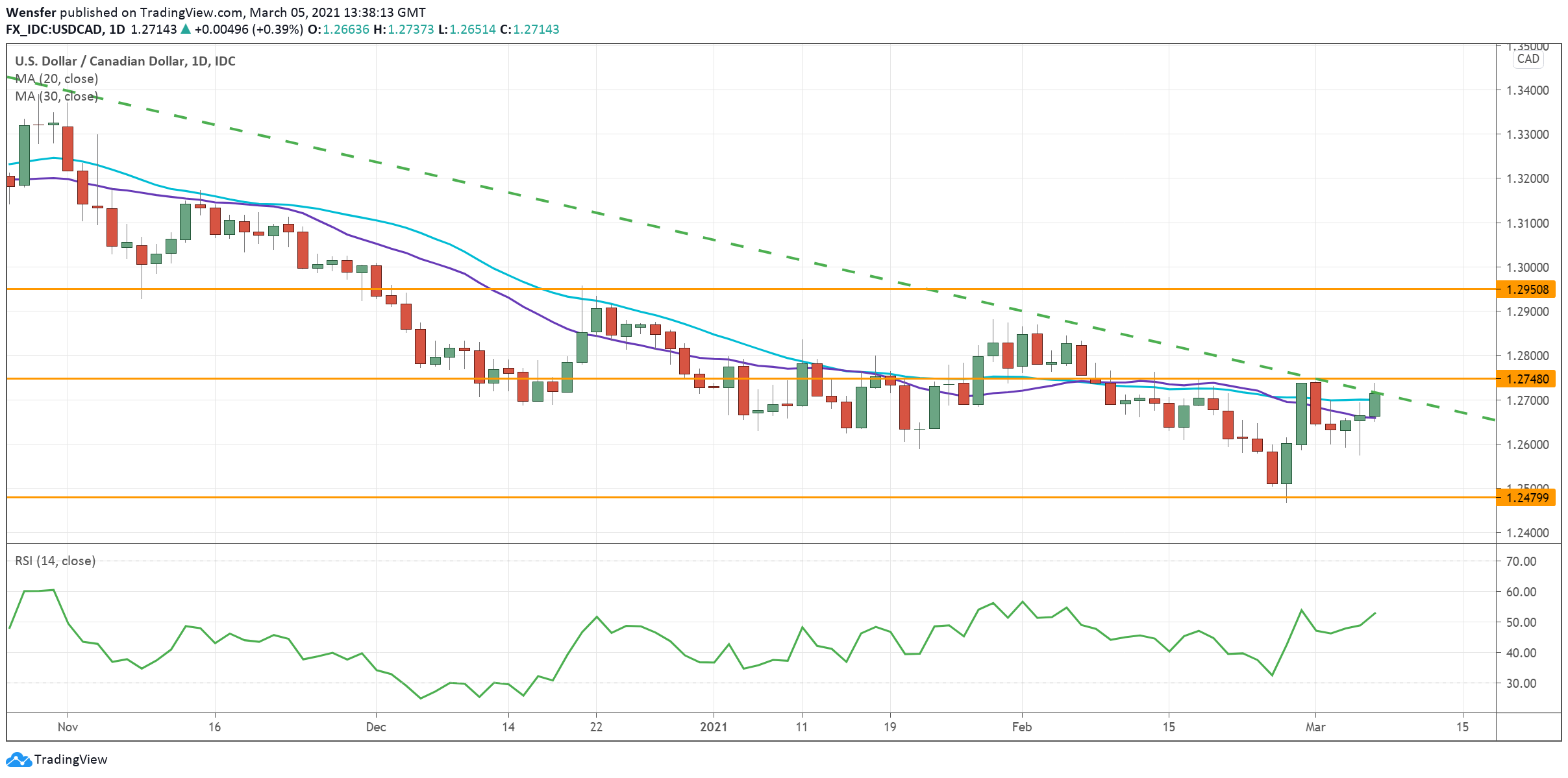 Canada's solid growth and high crude prices have been a boon to the loonie. As the price action steadily grinds down towards March 2018's lows, the short side has become an overly crowded market.
Among this week's events, the BOC is likely to stay put and reiterate its intention to keep the rates low until 2023. A drop in the unemployment rate could raise intraday demand for the loonie.
The pair is testing the year-long bearish trendline, and a pop above 1.2750 could set a reversal in motion as sellers start to cover their bets. 1.2480 is a close support for those buying the dip.
How do you feel the CAD will fare in the coming weeks? Open your Orbex account and trade now!