Shares in us beverage giant Coca Cola are trading a little lower pre-market on Friday following a disappointing earnings call yesterday. The beverage-marker reported third-quarter earnings per share of $0.40, undershooting estimates for a $0.46 EPS.
Despite the miss on headline earnings, revenues were above expectations at $8.65 billion. This beat estimates of an $8.36 billion result. However, even at this level, revenues were down 9% on the same period last year.
Organic Sales Drop
Looking at the breakdown of the data, organic sales fell 6% year on year. Unit case volume, which is a measure of demand that strips out pricing impact/currency impact, was lower by 4%.
Indeed, all four categories of the company's drinks reported a falling unit case volume. Of these, the least affected was sparkling soft drinks which noted only a 1% decline.
Tea and Coffee Hit Hardest
Of the company's four drinks categories, tea and coffee were the worst hit, falling by 15% over the quarter. Just behind them was enhanced water and sports drinks which saw an 11% decline in unit case volume.
Meanwhile, juice, dairy, and plant-based drinks were lower by 6%.
Commenting on the big fall in demand for tea and coffee, CEO James Quincey said that the drop in traffic to the group's Costa cafes was the main reason and cautioned that traffic was not expected to pick up much in the near term.
At-Home Demand Growing
Commenting on the results, Quincey noted that the company had suffered as a result of the closure of cinemas over the quarter as well as reduced demand from restaurants and office buildings though did note a pick up in at-home demand which remains elevated.
On this, Quincey said:
"We have been winning share in at-home channels, and that's going to set us up for emerging stronger and being in a stronger position, even though mechanically in the short term, we lose share".
Slimming Down its Portfolio
Quincey also noted that the company is mid-transition as it continues to slim down its portfolio, letting go of brands that haven't performed well recently while focusing more on those that have.
Tab and Odwalla have both been cut, the latter of which recorded a $160 impairment charge over the quarter to Coca Cola's overall business. The company is now aiming to reduce its portfolio by 50% by end of the year.
Coca Cola Attempting to Breakout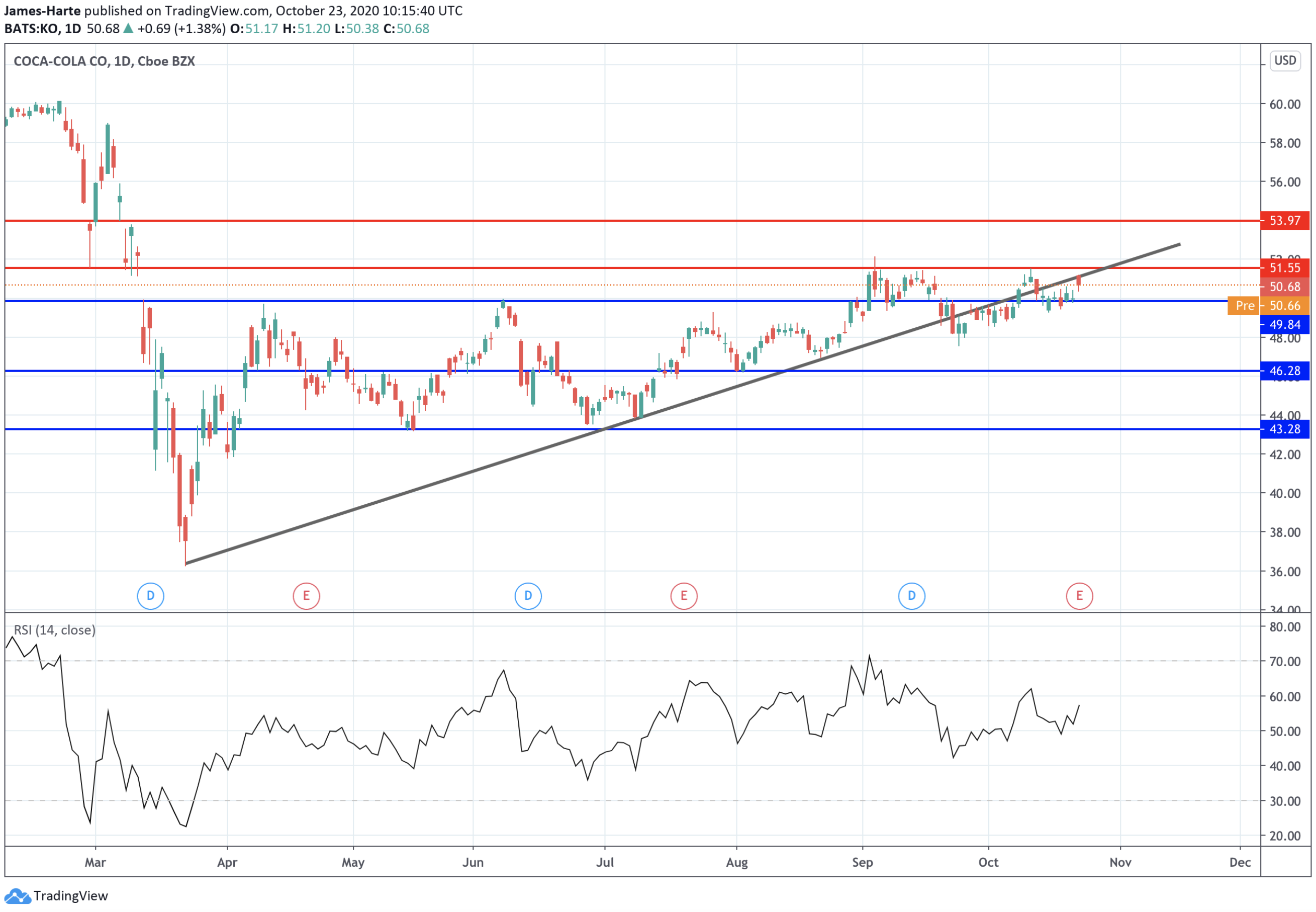 Shares in Coca Cola are now once again fighting to get back above the broken bullish trend line with the key 51.55 level resistance sitting just above also. If price can break above here, there is a clear run-up to the next resistance at the 53.97 level. To the downside, the key local support is at 49.84 with 46.28 just below.
Did you know that our average spread on the GBPUSD is below 1 pip? Check out our spreads on a demo account now!