USDCHF Surges Backed by Robust Jobs
A combination of fundamental and technical factors have put the US dollar in demand lately. Last Friday's positive NFP number may have offered the buyers more assurance, as improvement in the job market raises the prospect of a steady recovery.
The view that the US economy is getting back on track has prompted the short side to cover their positions. As selling the greenback has been traders' favorite past time for nearly two years, unwinding such a crowded trade is likely to push up the volatility.
The price has broken above the nine-month long trendline and 0.9090 is a key resistance where the next move might be decided.
AUDCHF Rebounds as China Tightens
The latest market shenanigans might have spooked some investors and forced others to close their profitable positions. But for true 'hodlers' who believe that the fundamentals have not changed, and that risk assets like the Australian dollar are prone to a comeback, their patience seems to have paid off.
With rumors that Chinese authorities may be starting to tighten their monetary policy to rein in asset bubbles, the Aussie could be a proxy to benefit from this strong sign of its neighbor's economic recovery.
The pair bounced sharply from the rising trendline near 0.6750. A breakout above 0.6900 could trigger an extended rally towards 0.7.
NZDCAD Rises After Robust Domestic Data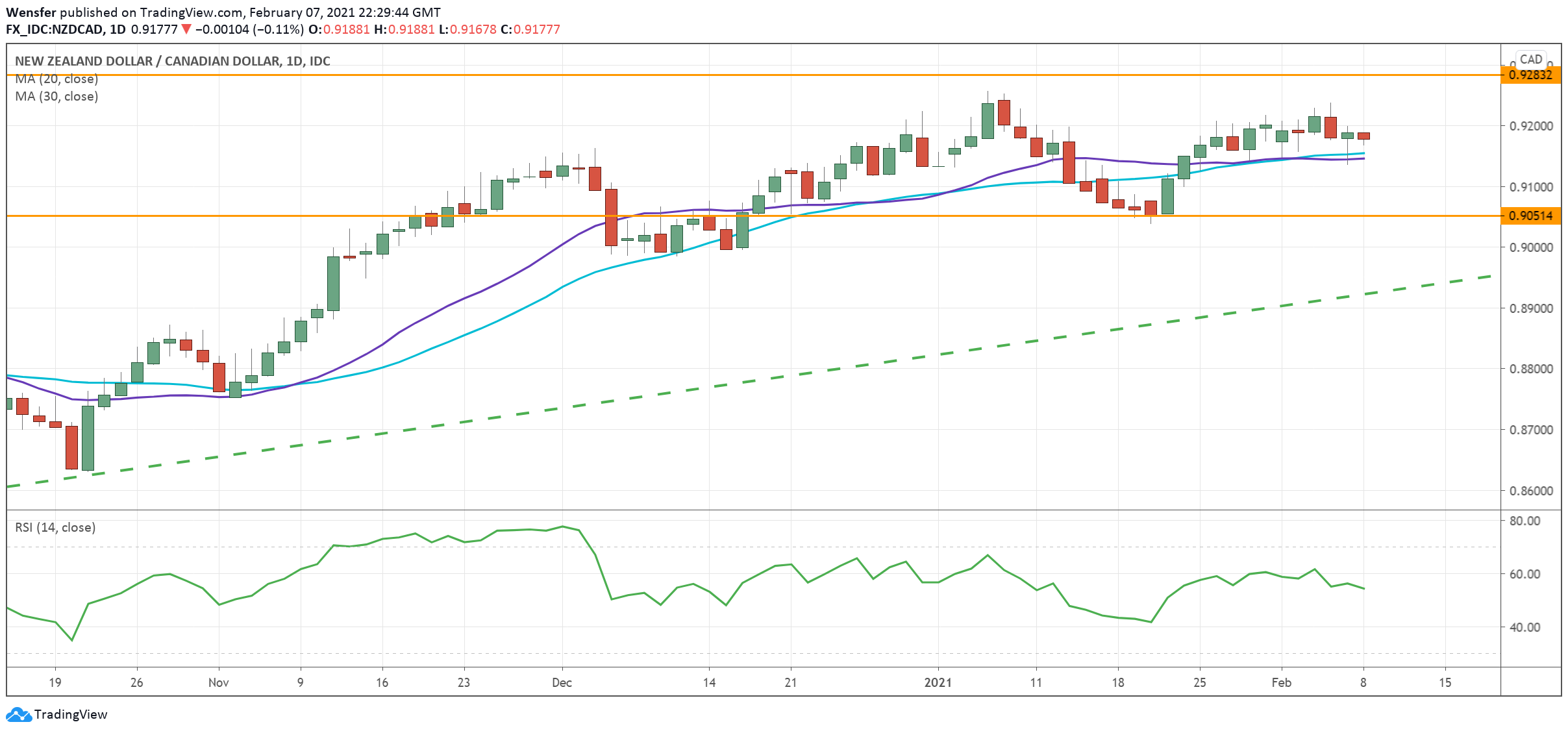 As one of the best performing major currencies, the New Zealand dollar continues to surf on strong tailwinds. Improvement in the labor market with the unemployment rate falling from 5.3% to 4.9% last quarter, and solid recovery in the housing market point inflation in the right direction.
This week the RBNZ is likely to express optimism and assure that the current accommodative policy would stay as the recovery gains momentum.
As a result, the kiwi may still carry on on its bullish ride as long as it stays above the immediate support of 0.9050. 0.9280 from March 2019 is a key hurdle to lift before another round of rallies.
GBPJPY Recovers to a 12-Month High
The pound sterling continues to grind its way up after the Bank of England kept its rates intact. While the central bank has reportedly told main street banks to prepare for negative interest rates, its latest decision came out as a little surprise.
If the British economy has already hit rock bottom, the only way is up and there will be no need for negative rates should we see a gradual improvement. This scenario would give the pound's rally enough headroom.
Now the main obstacle would be 145.00 from last February's sell-off. A bullish breakout could add greater momentum, and 140.50 is a key support in case of a pullback.