Amazon shares are trading a little lower ahead of the US session on Friday. The company's stock has seen plenty of volatility over 2021 so far with price dropping initially, only to rally into the green on the year, before now moving into negative territory again. The decline comes despite a bumper Q4 earnings report from the online delivery specialist.
Earnings & Revenues Beat
Amazon reported fourth-quarter earnings per share of $14.08, almost double the $7.20 EPS Wall Street was looking for.
Revenues were also higher than expected at $125.56 billion vs $119.7 billion forecasted. The main driver behind the bumper results was the combination of a return to lockdown across most European countries and other parts of the world, as well as the holiday period.
COVID Holiday Boost
The holiday period is traditionally a period of high demand for Amazon's services anyway, but given the social restrictions and lockdowns in place, customer numbers surged.
Amazon noted that it delivered over a billion products worldwide over the quarter. As a result of the surge in revenues, Amazon has gone on a major recruitment drive, hiring over 175k full-time staff members and part-time members over Q4. This is over triple the number it hired during the same period a year ago.
Volumes To Drop in Q1
Looking ahead, Amazon is expecting a 25% drop in volumes from Q4 to Q2, following a "record-breaking holiday season".
However, the company also expects COVID related costs to decline to around $2 billion over Q1 following several months of large spending on COID related issues. In Q3, COVID related costs were  $4 billion.
Bezos Steps Down
Notably, the earnings release also featured CEO Jeff Bezos stepping down from his position though he will remain in the company within a new role.
Commenting on the move and his success with Amazon, Bezos said:
"If you do it right, a few years after a surprising invention, the new thing has become normal. People yawn. That yawn is the greatest compliment an inventor can receive. When you look at our financial results, what you're actually seeing are the long-run cumulative results of invention. Right now I see Amazon at its most inventive ever, making it an optimal time for this transition."
Amazon Reverses Following False Break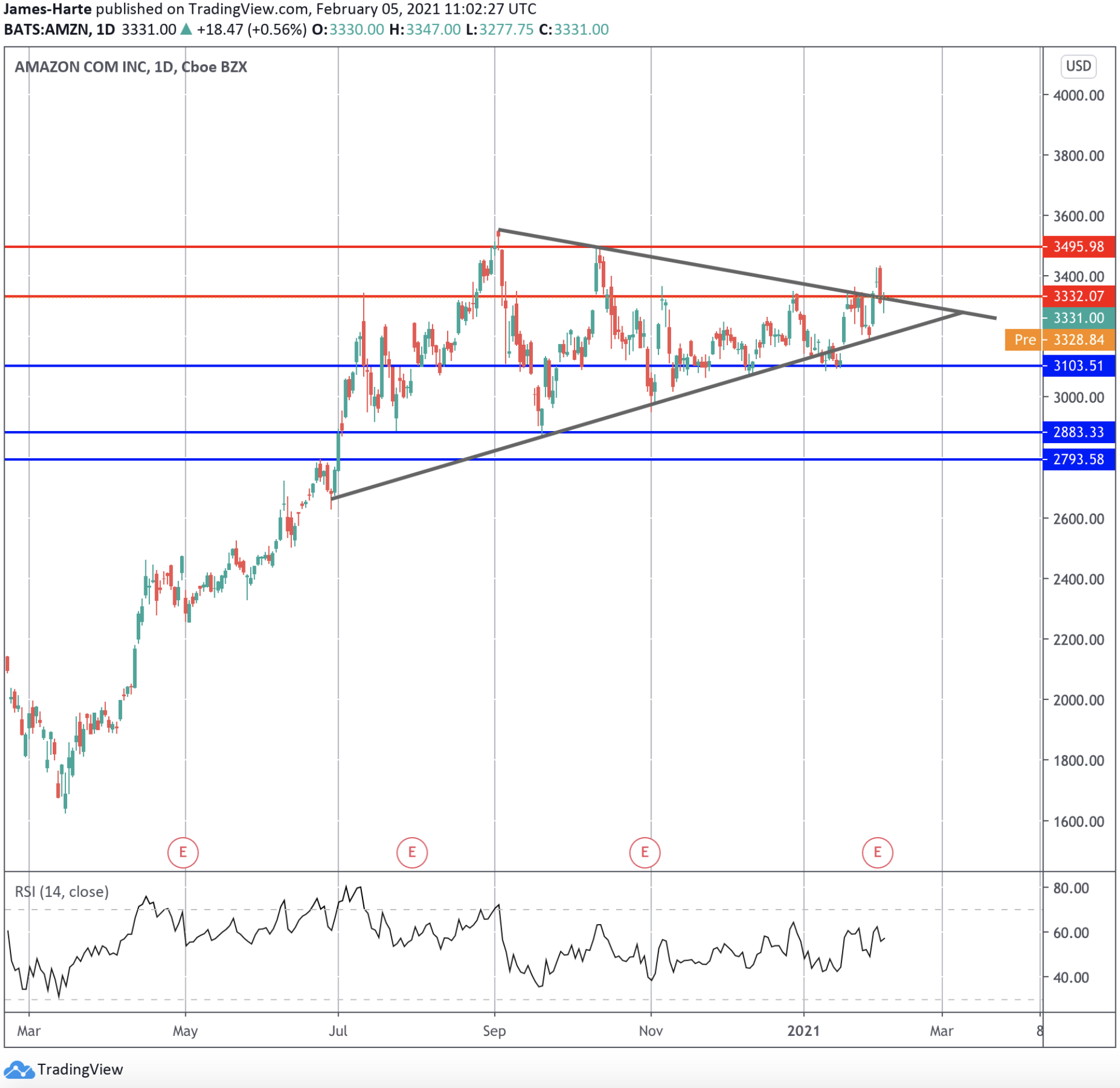 Shares in Amazon recently broke above the contracting triangle pattern which has framed the consolidation over recent months. Price briefly moved above the 3332.07 level before reversing back inside the triangle.
For now, the triangle low is holding as support. Below here, however, the focus will turn to the 3103.51 level next.
Have you been testing your strategy on a Demo Account? Sign up now and begin practicing!