GBPUSD weakens as recession looms
Sterling tumbles as Britain's cost-of-living crunch is pushing the country to the brink of recession. Inflation hit a new 40-year high of 9.1% in May as soaring energy bills and Brexit trade friction compound rising domestic pricing, leaving business and household confidence in shambles. The Bank of England has warned that inflation could reach above 11% in October and may act "forcefully" with half-point hikes despite the risk of a recession. To add insult to injury, the weakness of the pound may exacerbate the crisis with imported inflation. A fall below 1.1950 may send the pair towards 1.1500. 1.2600 is a fresh resistance.
USDJPY climbs as BoJ remains dovish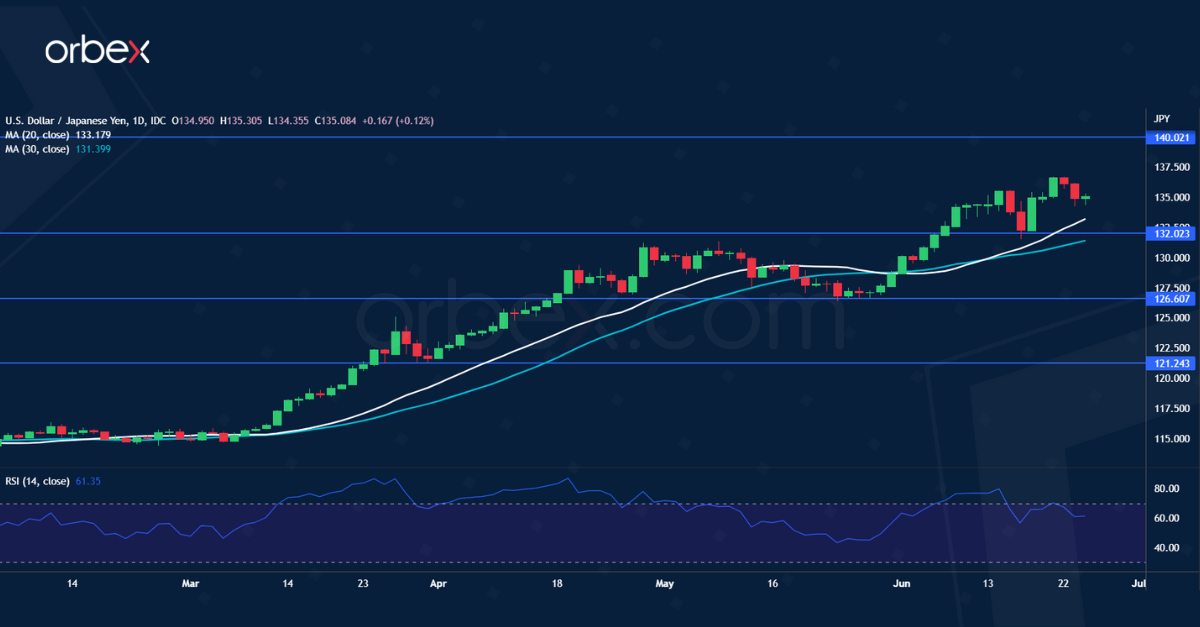 The Japanese yen sank to its lowest level against the US dollar since October 1998 as the Bank of Japan stuck with its massive stimulus programme. Even though inflation exceeded the 2% target in April for the first time in seven years, the central bank may see it as a good problem to have as it has been struggling with deflation for decades. This means that the BoJ would prefer a pickup in demand and wages, allowing prices to overshoot. The yen's sell-off may continue as the market looks to capture the rate differential in what is called a carry trade. The pair is heading towards 140.00 with 132.00 as the closest support.
XAUUSD softens over demand for US dollar
Gold struggles to bounce as the US dollar regains momentum. Geopolitical worries and the risk of a global recession are doing little to support the precious metal which is more likely to stay at the mercy of the US dollar. Market participants expect the Fed to raise interest rates by another 75-basis-point in July, followed by 50bp in September. As investors seek returns in an environment with limited options, the greenback may continue to be a better compromise than the non-yielding metal. This is also a nod to the relative strength of the US economy in case of a downturn. A failure to reclaim 1910 may send the price below 1790.
SPX 500 bounces but caution persists
The S&P 500 remains under pressure as concerns about a recession persist. After shedding nearly 25% from its January all-time high, investors are bracing for a bear market. The Fed's unwavering commitment to tackle 40-year-high inflation is having effects on demand as recent data showed. Fed Chair Jerome Powell acknowledged that a recession was a possibility. The market is wondering whether the Fed has enough skill and luck to engineer a 'soft landing', slowing down growth without pushing into a recession. This billion-dollar question may continue to drive volatility. The index is bouncing off 3650. 4000 is the first resistance.