APPL Ending Diagonal Completes Cycle Impulse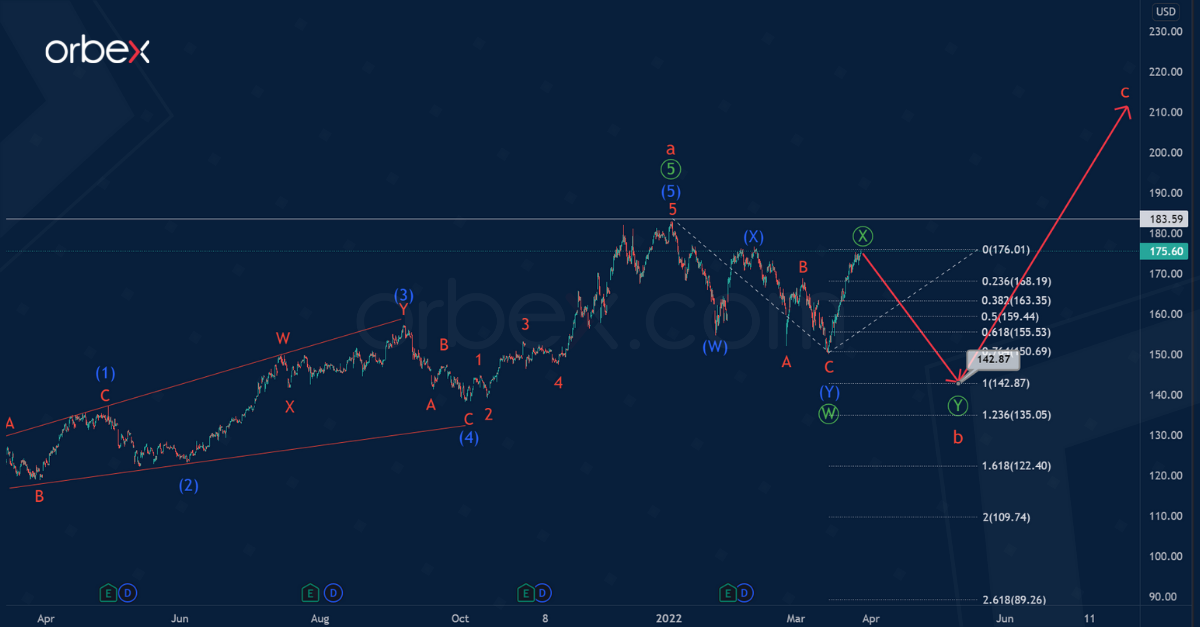 The current structure of AAPL shares suggests the development of the primary fifth wave. This takes the form of an ending diagonal (1)-(2)-(3)-(4)-(5) of the intermediate degree. Wave ⑤ is the final part in the cycle impulse a.
It is likely that the market has recently completed the construction of an intermediate correction (4). It has the form of a minor triple zigzag W-X-Y-X-Z.
There is a possibility that the price within the correction (4) will fall to the support level of 137.16, located on the lower red line.

After the end of the correction (4), the market turned around and began to move in the opposite direction in the intermediate wave (5). Perhaps the bulls are aiming for the 209.13 area. At that level, the intermediate waves (3) and (5) will be equal.
In another scenario, the final diagonal fully completed its pattern, and with it the entire cycle wave a ended.
Thus, at the time of writing, there is a decrease in the cycle correction b, which can take the form of a double zigzag Ⓦ-Ⓧ-Ⓨ. It seems that the first two primary sub-waves Ⓦ-Ⓧ have already formed.
There is a high probability that the final sub-wave will be able to bring the market near 142.87. At that level, the primary wave Ⓨ will be at 100% of the wave Ⓦ.
Open your account now to gain access to unlimited Orbex Trading Education!