Volatility Ahead: UK Inflation & GBP Outlook
After a week with the lack of fundamentals across the board, this week comes with many economic releases and events, which likely to spark the level of volatility once again.

During the European session ahead, all eyes will be on the UK as we wait for inflation figures, which likely to have a notable impact on the market and GBP pairs.
Expectations
| | | |
| --- | --- | --- |
| Indicator | Forecast | Prior |
| CPI YoY | 2.6% | 2.3% |
| Core CPI YoY | 2.2% | 1.8% |
| PPI Input | 0.1% | 0.4% |
| PPI Output | 0.2% | 0.4% |
| House Price Index | 5.4% | 5.8% |
| Retail Price Index | 3.4% | 3.1% |
As you can see above, the estimates are encouraging. Most of the numbers are expected to improve further in April compared to March.
The most important number to keep an eye on today is the CPI YoY. The estimates point to a higher reading at 2.6% in April up from 2.3% in March. If the estimates are right, this would be the highest inflation reading since September of 2013. Moreover, the inflation would be above the Bank of England's 2% target for three months in a row.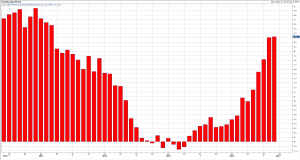 Such reading may force the Bank of England to act soon. However, during the past few meetings, the Bank of England noted that inflation is unlikely to remain above 2% for a long time. Yet, the central banks are not always right.
Therefore, rising inflation might lead to a possible surprising change in the Bank of England policy. Meaning, the Bank of England might be forced to raise rates this year, especially of inflation kept on rising.
Another number to keep an eye on is the PPI output, which set to rise for the fifth month in a row, marking its longest rising stake since 2011.
Why Bank of England is Reluctant
The Bank of England is considered as the biggest victim of Brexit. Before the referendum, the bank was very close to change its easing policy and was getting ready raise rates once again.
However, Brexit came as a shock to the Bank of England and so to everyone else, leading the BoE to take a proactive decision, as fears were rising for a hard Brexit.
The BoE was forced to cut the rates to record low and increased its asset purchases. The Brexit event changed the BoE estimates upside down.
In the meantime, with inflation rising faster than anyone estimated, the BoE is in another dilemma, as the UK growth is slowing down, while inflation is shooting higher, which increases the risk of stagflation ahead.
Therefore, traders should be ready for another change from the Bank of England to avoid such scenario, but so far we can't rule out what would be this change or when.
GBP Remains Strong
GBPUSD is very close from a solid breakout level, which stands around 1.30. last week, the pair managed to rise all the way to 1.2990 and retraced back to 1.2850.
However, it has been rising since the beginning of this week, trading above 1.2900 earlier this morning. With today's expected inflation data, another spike seems to be a few hours away.
The first immediate resistance stands at 1.2965 followed by last week's high around 1.2990. Higher inflation is likely to be the catalyst to test 1.30, with a possibility to break that resistance. If so, further gains would be more likely above 1.31.
The technical indicators are turning higher once again, including RSI and Stochastic which supports the idea or another bounce ahead.
The bullish outlook remains as long as GBPUSD continues to trade above 1.2850. otherwise, another leg lower could be seen back to 1.2750's which is unlikely right now.