Gold prices saw a volatile last week on account of the ongoing Greece crisis. The Yellow metal was bid up gaining close to 1.57% for the week ending 20th June, closing at 1199.79. The Yellow metal however failed to keep its gains with this week seeing a decline. At the time of writing, Gold prices were trading down -1.84%.
From the daily charts, three days ago, we noticed a bearish reversal candlestick pattern near the level of support/resistance at 1203.33. The appearance of this pattern and failure to close above 1203 is indicative of the down move we are seeing this week. However, Gold prices need to close below previous lows at 1171.76 to seek further downside moves. The daily chart as shown below shows the next level of support coming in at 1141.91.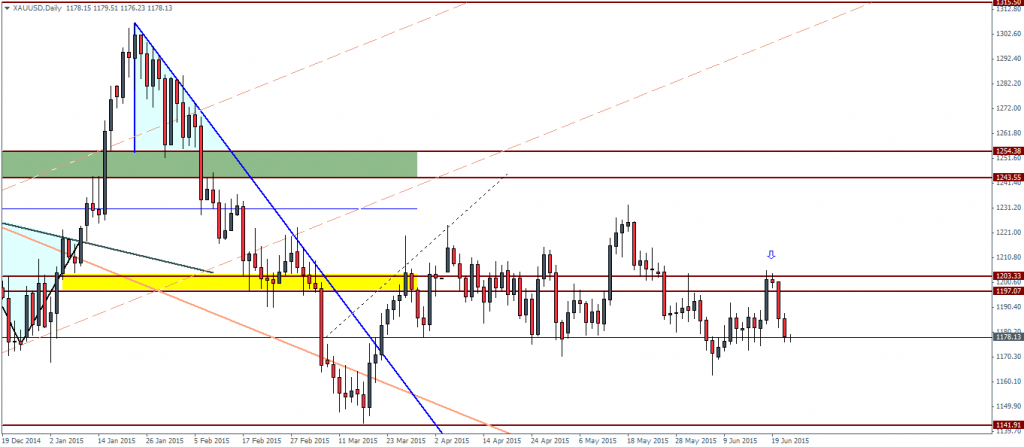 Switching to the intraday charts, price action broke out of the initial falling price channel and hit resistance near 1203 – 1200 region. Prices then promptly fell back and are currently trading back at the support/resistance region near the price level of 1180 – 1174.25. We have plotted a new falling price channel to accommodate the recent move to 1200 region and this new channel gives the next support that could be tested at 1165.44.
A break below 1174 could then set the stage for a test to 1165.44 level of support. Any upside moves are likely to stall below the 1200 – 1203 level of resistance.
Silver futures continue to have slowed down its momentum with the last three weeks of price action resulting in a broadly sideways market. Price action in Silver futures has been largely trading sideways within the range of 16.47 through 15.76.
The break out from the symmetrical triangle shows that price could likely test the support at 15.58 which could then see a decline to 14.59 on a successful break. In the event the support at 15.58 holds, Silver could continue to range sideways.
On the H4 intraday charts, Silver attempted to break out after consolidating near the support/resistance level of 16, however the rally was capped near 16.37. Failure to break above saw Silver prices decline strongly and broke down below the previous support at 16. To the downside, the next target comes in at 15.69. We do expect to see a modest retest back to 16, before prices decline lower.