Strefa kierunkowa na EURPLN
Poniższy wykres przedstawia notowania pary walutowej EURPLN na interwale sesyjnym. Pozwala to zaprezentować dynamikę kursu na przestrzeni ostatnich czterech miesięcy sesyjnych. W tym czasie notowania ukształtowały zakres wahań o rozpiętości mniej więcej 1650 pipsów.
Lewa strona wykresu rozpoczyna się od dołka cenowego w pobliżu strefy 4,6300. Była to jednocześnie najniższa wycena tej pary walutowej od blisko pół roku. Do połowy lutego obserwowaliśmy jednak wyraźne odreagowanie, które ustanowiło średnioterminowe maksima.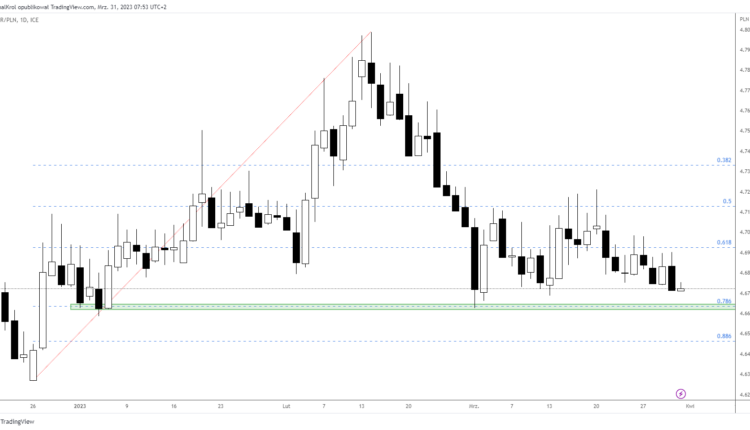 EURPLN D1
Obecna korekta zbliża się już do głębokich mierzeń wewnętrznych. W pierwszej kolejności zwracam uwagę na pułap współczynnika Fibonacciego 78,6%. Jest to poziom, który stanowi strefę kierunkową dla notowań. Dokładny kurs wyznaczonego poziomu to 4,6635.