Poniższy wykres przedstawia notowania niemieckiego indeksu giełdowego DE30. Rynek ukazuje na interwale 1-godzinowy, który pozwala przedstawić dynamikę kursu na przestrzeni ostatnich kilkunastu sesji. W tym czasie rynek ukształtował szeroki przedział wahań, którego zakres objął mniej więcej 1 850 punktó.
Lewa strona wykresu rozpoczyna się od lokalnego dołka, gdzie notowania zarysowały minima po cenie 11 450 punktów. Po tym fakcie na rynku pojawił się silny spadek awersji do ryzyka, a inwestorzy zaczęli wracać na rynki akcyjne. Zamknięcie widocznego swingu wzrostowego nastąpiło na początku ubiegłego tygodnia ~ 13 300 punktów.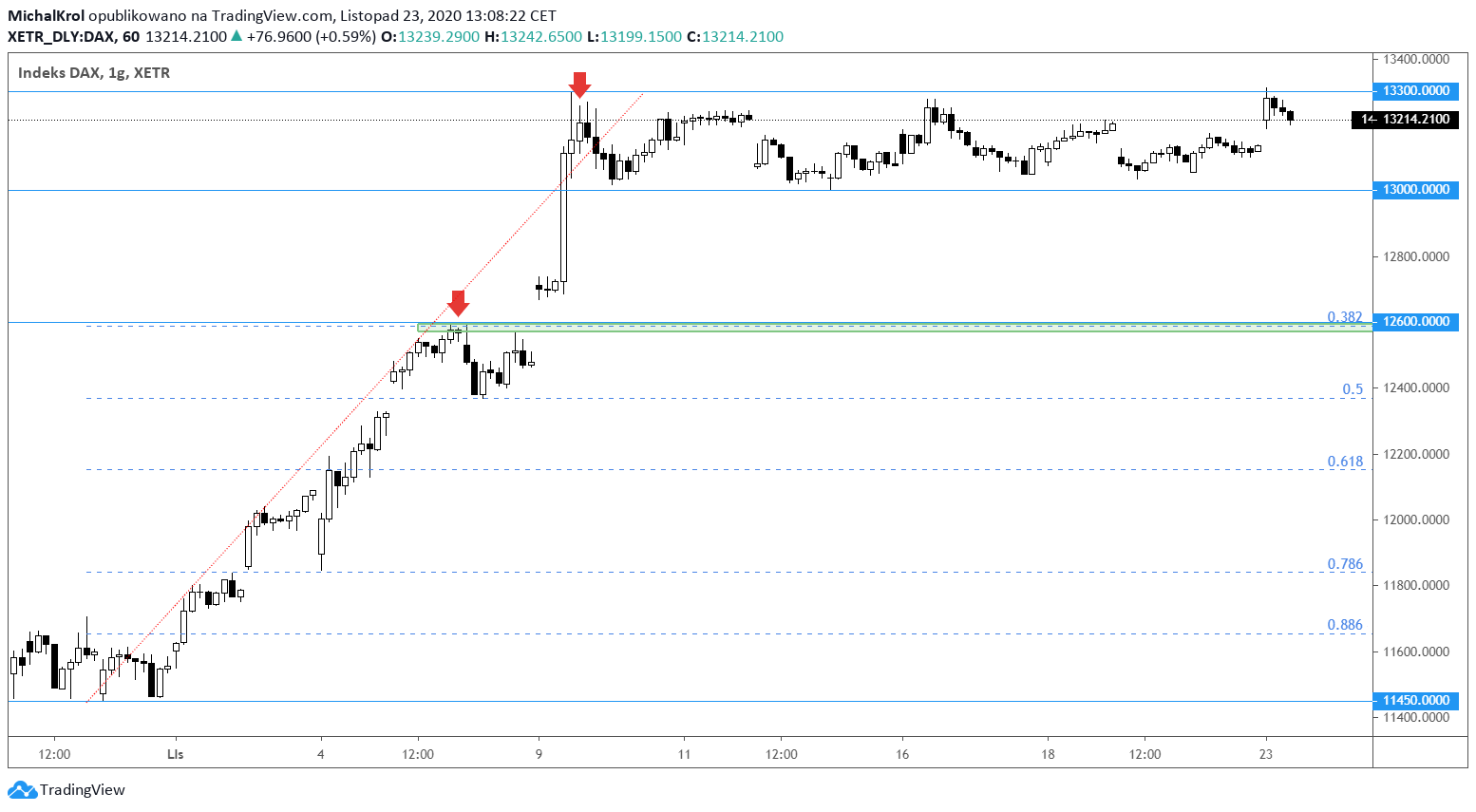 DAX H1
Otwarcie nowego tygodnia przynosi pozytywny impuls dla inwestorów giełdowych. Kurs wyrównuje listopadowe maksimum, które osiągnęło poziom cenowy 13 300 punktów. Jest to zarazem średnioterminowa strefa podażowa na niemieckim indeksie. Przybliża to nas do wybicia z dwutygodniowej konsolidacji, która zarysowała się w przedziale 13 000 – 13 300 punktów. Ewentualne wybicie dołem lub górą powinno być sygnałem do powrotu zmienności rynkowej.