EURUSD falls over potential debt crisis
The euro weakens as the market grows wary of a repeat of the debt crisis from a decade ago. Borrowing costs for peripheral nations soared after the ECB revealed its plans to raise interest rates. Traders fear that the central bank may throw heavily indebted members under the bus to tame stubbornly high inflation. Policymakers' pledge to funnel more support may not be enough as tighter financial conditions would lay bare divisions that have plagued the eurozone. The prospect of another debt crisis weighs on sentiment and has sent the euro to a five-year low at 1.0350. 1.0780 is the first major hurdle ahead.
AUDUSD slides as market stays risk-off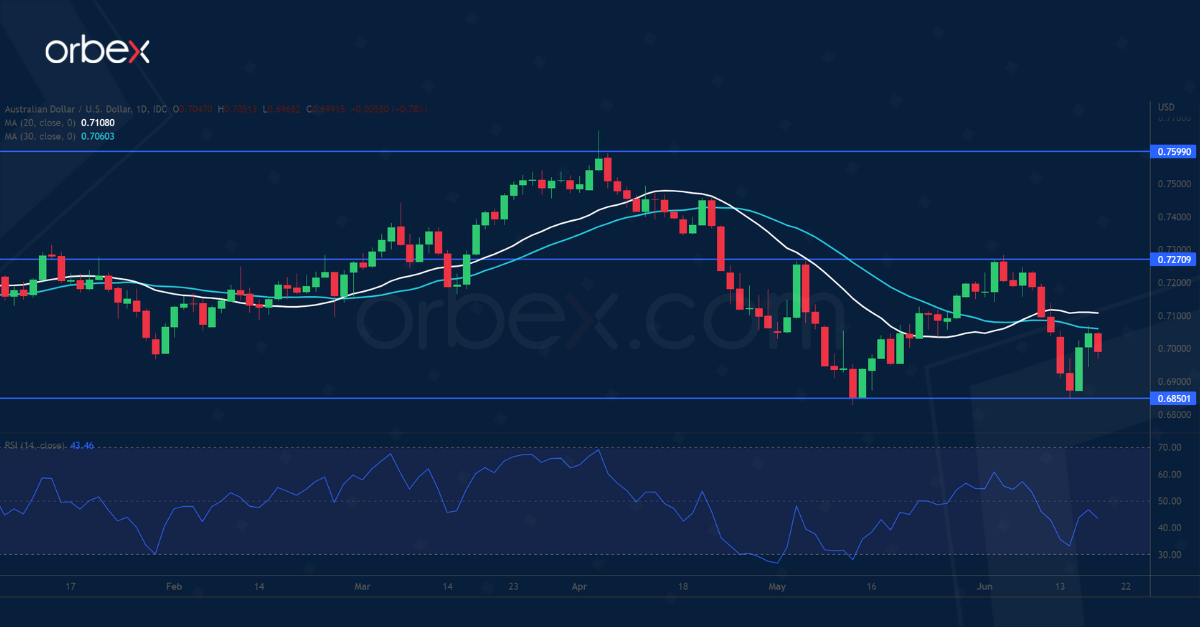 The Australian dollar continues to struggle amid risk asset liquidation. RBA Governor Lowe has warned that inflation could accelerate to reach 7% by the end of the year and a "decisive" policy would be needed in response. The central bank's normalisation may pick up speed after a surprise 50bp hike this month, with additional similar-sized hikes in July, August and September. Aggressive tightening would narrow the policy divergence with the US but merely cushion the blow to the risk-sensitive aussie as long as the market remains cautious. A fall below 0.6850 would send the pair to 0.6600. 0.7270 is a fresh resistance.
UKOIL rallies as demand remains solid
Brent bounces higher as demand may continue to outweigh supply. Oil prices have been choppy as rate hikes in major economies stir up worries about growth. On the bright side, better-than-expected Chinese economic data suggest that demand may not be at risk. China's industrial output climbed in May while the market expected a slight contraction. A positive number shows the economy's resilience despite Covid disruptions. Meanwhile, the US imposed new sanctions on Iran in an attempt to revive the nuclear deal and ease the supply constraints. But until then the price would be heading to 138.00 with 114.00 as a support.
NAS 100 plunges as growth at risk
The Nasdaq 100 tumbles over concerns of a global economic slowdown as interest rates surge. Following a much-anticipated 75bp hike last week, Fed Chair Jerome Powell said another 50 to 75-basis-point hike could be delivered in July. Market participants fret that the window for a soft landing is closing and wonder whether the economy is strong enough to cushion the impact of fast-paced tightening. Uncertainty has driven buyers away from growth-sensitive stocks, leaving the index vulnerable to further market rout. The bears are pressing towards the two-year lows near 9900. 12000 has turned into a resistance level.
Test your strategy on how the AUD will fare with Orbex - Open Your Account Now.