EURUSD falls as ECB keeps waiting
The euro struggles as the ECB remains divisive over interest rate hikes. The sharp contrast in policy between the Fed and the ECB has driven the euro to a five-year low. The Ukraine conflict on Brussels's doorstep certainly complicates the latter's calculation. As inflation nears four times the central bank's target, markets still expect a timid tightening starting from July. Some relief may come from a pause in the dollar's bull run if the Fed's hawkishness is priced in. Until then, the euro might continue to be weighed down by the bearish inertia. A drop below 1.0500 may send the pair to 1.0300. 1.0900 is a fresh resistance.
USDJPY may face post-FOMC profit-taking
The US dollar consolidates its gains after the Fed delivered a 50 bp rate increase as widely expected. Overwhelmingly long positions have been built up and a pullback could be due in a classic 'buy the rumour, sell the news'. Fed Chair Jerome Powell has played down the likelihood of a 75 bp rate hike in the future. This slightly less hawkish tone was enough of a reason for big money to trim their extended exposure in an overcrowded trade. Still the dollar could be on its way to its highest level in 20 years against the yen for lack of a better catalyst. 135.00 from February 2002 is the next step and 125.00 an immediate support.
UKOIL rallies as EU may ban Russian oil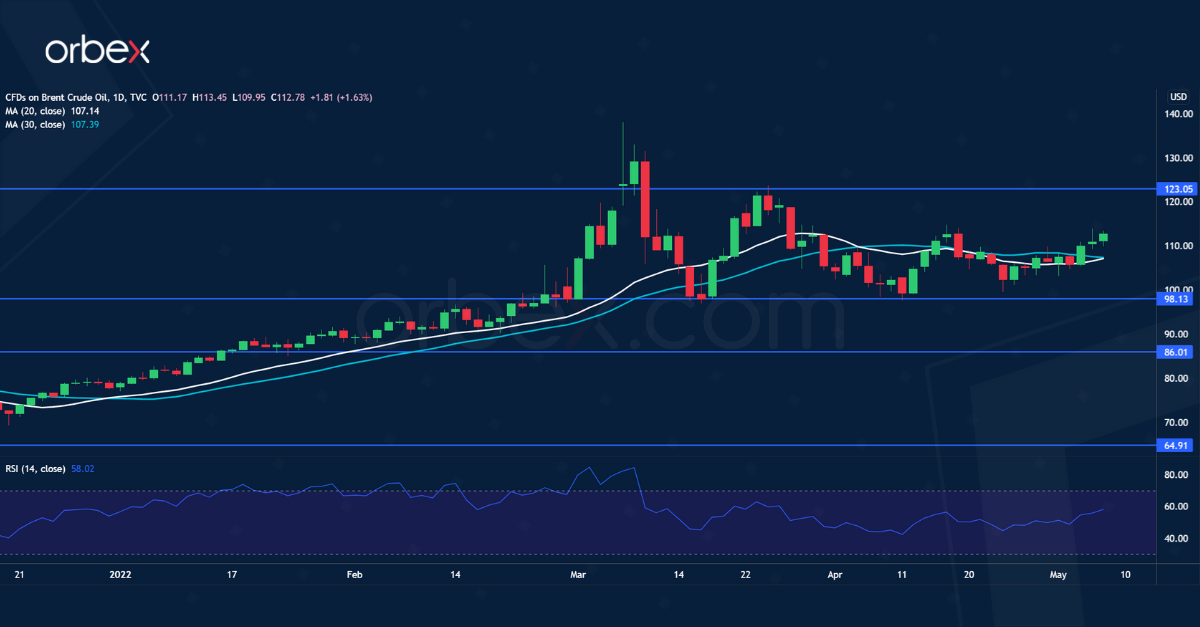 Brent crude rallies on a potential EU embargo on Russian oil. The price action has been well-supported by tightening supplies lately. In a historic move, the European Commission proposed to phase out imports of Russian oil products by the end of 2022. Meanwhile, OPEC+ continues to ignore major consumers' calls to raise their output, exacerbating the sense of scarcity. Headwinds may come from worries that lockdowns in China could cripple the demand. However, the uptrend indicates that geopolitics-driven supply issues still outweigh demand concerns. 98.00 is a key support and a break above 123.00 would lead to 138.00.
NAS 100 struggles as higher rates loom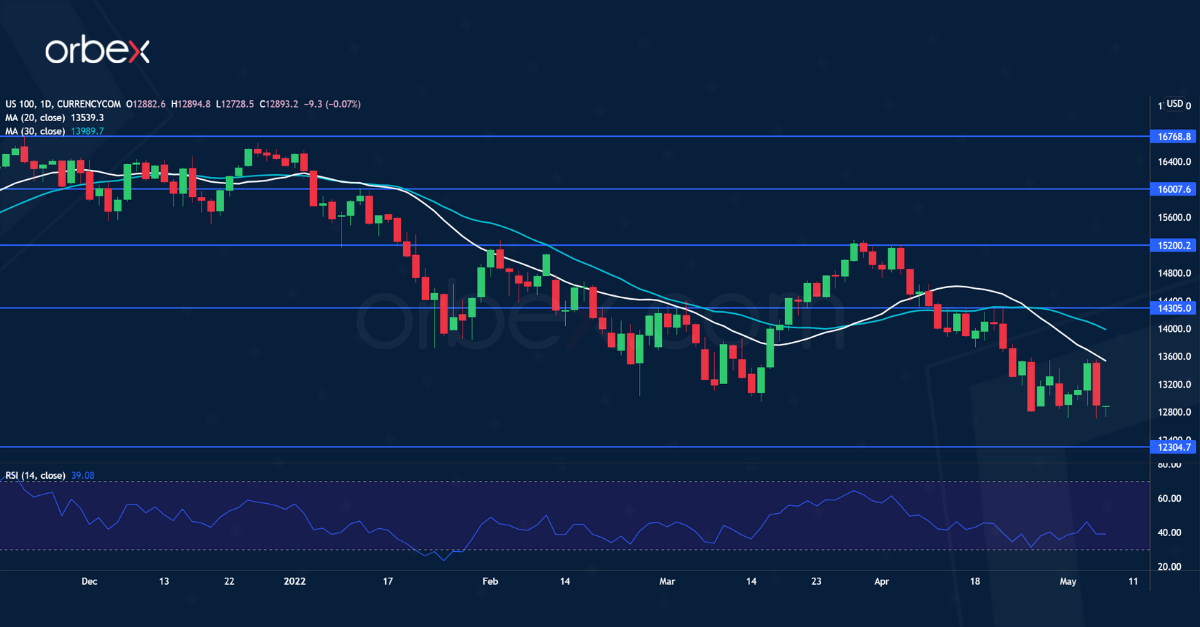 The Nasdaq 100 weakened as the Fed laid down a hawkish roadmap. The market has well digested the biggest hike in US interest rates in more than two decades as it was in line with expectations. There was even a sense of relief as a more aggressive move of 75 basis points was off the table, for now. However, growth equities still face strong headwinds going into the summer. The central bank has signalled similar-sized rate hikes at upcoming meetings, which would mean that the reality of higher discount rate may continue to weigh on valuations. 12300 could be a temporary support and 14300 a fresh resistance.
Test your strategy on how oil will fare with Orbex - Open your account now.