Gold
The gold market saw its biggest price move in around a month this week as sellers drove price down from highs of around 1875 at the start of the week to sub-1790 as of writing.
The catalyst behind the move was the uptick in US inflation forecasts. In response to the progress being made with the US vaccination program, and with the government and the Fed projecting a solid recovery over H2, the dollar has soared higher this week. As a result, gold prices have sunk lower.
With the US government pushing through a $1.9 trillion-dollar stimulus package, the prospect of any further easing from the Fed in the near term is greatly reduced, keeping USD upside in focus over the near term.
The market will now be looking to today's US labor reports. Despite the downturn in December's data, which saw jobs growth turn negative, expectations have improved ahead of today's release in response to a higher than expected ADP employment figure.
The market is looking for a pickup from the prior month's -140k reading to 77k in January. A reading in this region should help keep the dollar supported, keeping gold weighted to the downside.
Gold Breaks Key Support
Gold prices broke down further this week with price moving beneath the 1826.71 level. The market is now moving within the bearish channel once again. The next key support to watch is at 1763.88. This marked the low of the Q4 2020 correction and a break below this level would put the focus on a move down to the 17000 level next, where the channel low sits also.
Silver
Silver prices have been under heavy selling pressure this week following an initial rally higher at the start of the week. The demand linked to the Reddit WSB trading movement saw silver prices break out to their highest levels since 2012. However, the move quickly reversed as the dollar soared midweek, taking prices lower in line with the sell-off In gold.
The fallback in silver prices this week comes despite the continued upside in equities markets with US indices moving back up to all-time highs as the volatility around the Reddit trading movement subsides.
False Breakout in Silver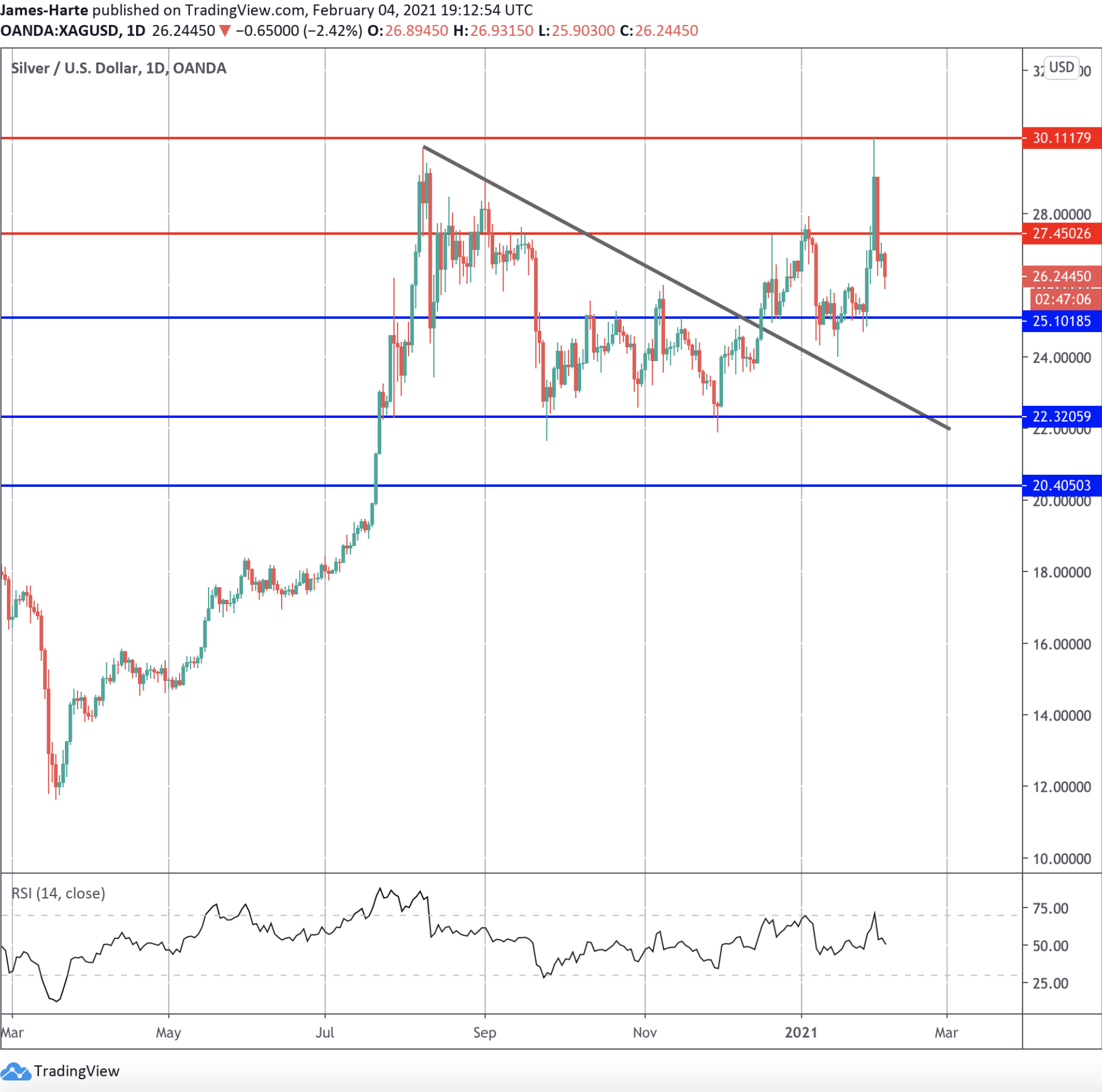 Silver prices briefly pierced above the 30.1117 level this week before running into selling pressure which then drove them, back lower.
The correction saw price breaking back down beneath the 27.4502 level. While below here, the market is vulnerable to a further drop lower with the 25.1018 level the next support zone to watch.
Looking to trade more than just metals? Check out the different types of financial instruments!!