Qualcomm Shrugs off Court Case To Trade Higher
Qualcomm Higher Pre-Market

Shares in US tech firm Qualcomm are trading over 2% higher pre-market on Monday. The company has been in the spotlight recently over a court case. Within the case, they claimed that Qualcomm had abused its dominance of the modern chip market and forced its customers to pay elevated royalties for its patent portfolio.
Despite the claims, the court ruled that Qualcomm was "hyper-competitive" not "anti-competitive". The court acknowledged that Qualcomm possessed monopoly power between 2006 and 2016. However, it found that the Federal Trade Commission (which bought the lawsuit against Qualcomm) had failed to prove that the company abused its power.
Shares in Qualcomm have been firmly higher over the last few weeks following a solid Q2 earnings report. Qualcomm reported Q2 earnings per share of $0.74, beating estimates for a $0.71 EPS. The company reported revenues of $5.22 billion, marking a solid increase on the $4.98 billion recorded over the same period a year earlier.
COVID Impacted Demand
Qualcomm noted that the COVID-19 pandemic had caused a reduction in demand for phones equating to a 21% reduction against the same period a year earlier.
In the press release issued along with the earnings report, Qualcomm said
"Our guidance for the third quarter of fiscal 2020 being based on a planning assumption that there will be an approximate 30% reduction in handset shipments relative to our prior expectations."
Qualcomm CEO Steve Mollenkopf said:
"There's been a lot of intensity to maintain those schedules. My guess is you'll see things move around a little bit because of just people dealing with the environment they're dealing with."
The company is the leading manufacturer of 5G chips and its progress over the quarter offers insight into the development of the 5G space.
Looking ahead, Qualcomm forecasts between 175 million – 225 million 5G phones to be shipped over the remainder of the year. Qualcomm reported that it had shipped 129 million modem chips over the quarter. They further expect to ship around 125 million – 145 million over the coming quarter.
Qualcomm Holding Near Recent Highs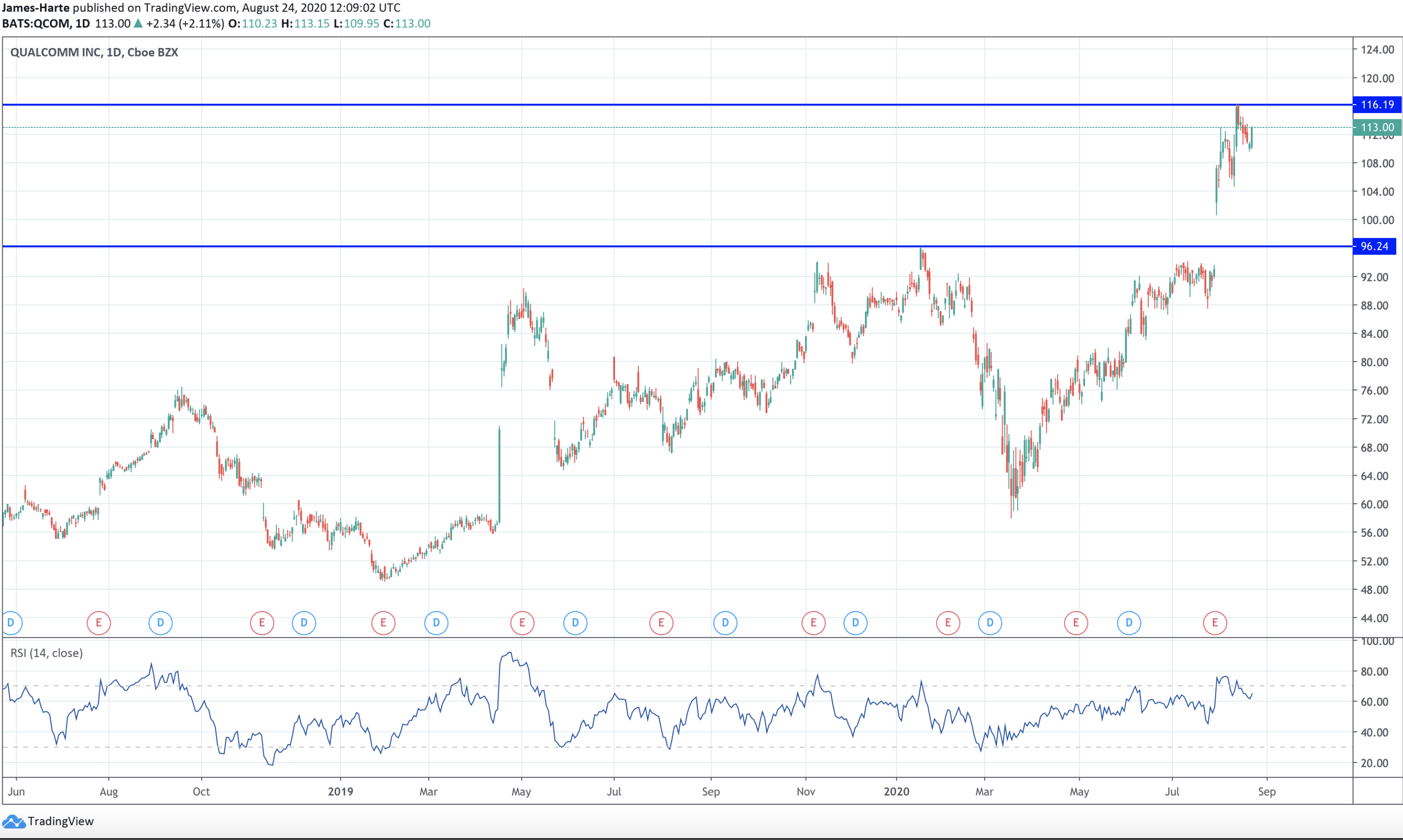 Shares in Qualcomm have rallied firmly over recent weeks on the back of a solid Q2 earnings report. Shares have broken well above the 96.24 level. Despite having corrected somewhat from the recent 116.19 highs, the near-term bias remains firmly bullish.
While price holds above the 96.24 level focus remains on the continued upside in the near term.
Have you been testing your strategy on a Demo Account? Sign up now and begin practicing!