Fresh Starliner Mission Planned
US airliner Boeing, the largest global aerospace manufacturer, announced this week that it is aiming to redo its unmanned Starliner crew capsule flight test to the International Space Station. Depending on the progress on its current development operations, they are planning for December this year or January 2021.
Boeing said if should the test prove successful, itself and NASA will then fly the Starliner with a crew for the first time in summer 2021. They are aiming for a post-certification mission in summer next year.
Boeing, and the many space fans tracking its progress, were left disappointed last year when a set of technical failures occurred. These led to the first Starliner test mission having to turn around and head back to Earth ahead of docking at the space station.
Big Losses in Q2
This is some positive news for Boeing at last, following a very difficult few months.
The company reported Q2 earnings per share of -$4.20. This was well below the estimated -$2.55 Wall Street was looking for. The company noted net losses of -$2.4 billion over the quarter. This comes as a result of the massive disruption caused by the COVID-19 pandemic.
Sadly, Boeing was already in bad shape before the pandemic struck. This was due to the negative response seen in the aftermath of two fatal crashes which resulted in 346 fatalities. The pandemic simply exacerbated what was already a very difficult situation for the company
Further Production Cuts & Jobs Losses Coming
As a result of the losses suffered during the pandemic, Boeing has announced that it will cut aircraft production. They have further warned over the risk that it could need to cut jobs further.
As a result of anemic demand, Boeing announced a reduction of 10,000 jobs earlier this year. With severance costs for the 19,000 staff members laid off, Boeing said that its charges were increased by over $2 billion on the quarter.
Commenting on the situation, Boeing CEO Dave Calhoun said:
"Regretfully, the prolonged impact of COVID-19 causing further reductions in our production rates and lower demand for commercial services means we'll have to further assess the size of our workforce."
Calhoun went on to say:
"This is difficult news, and I know it adds uncertainty during an already challenging time. We will try to limit the impact on our people as much as possible going forward."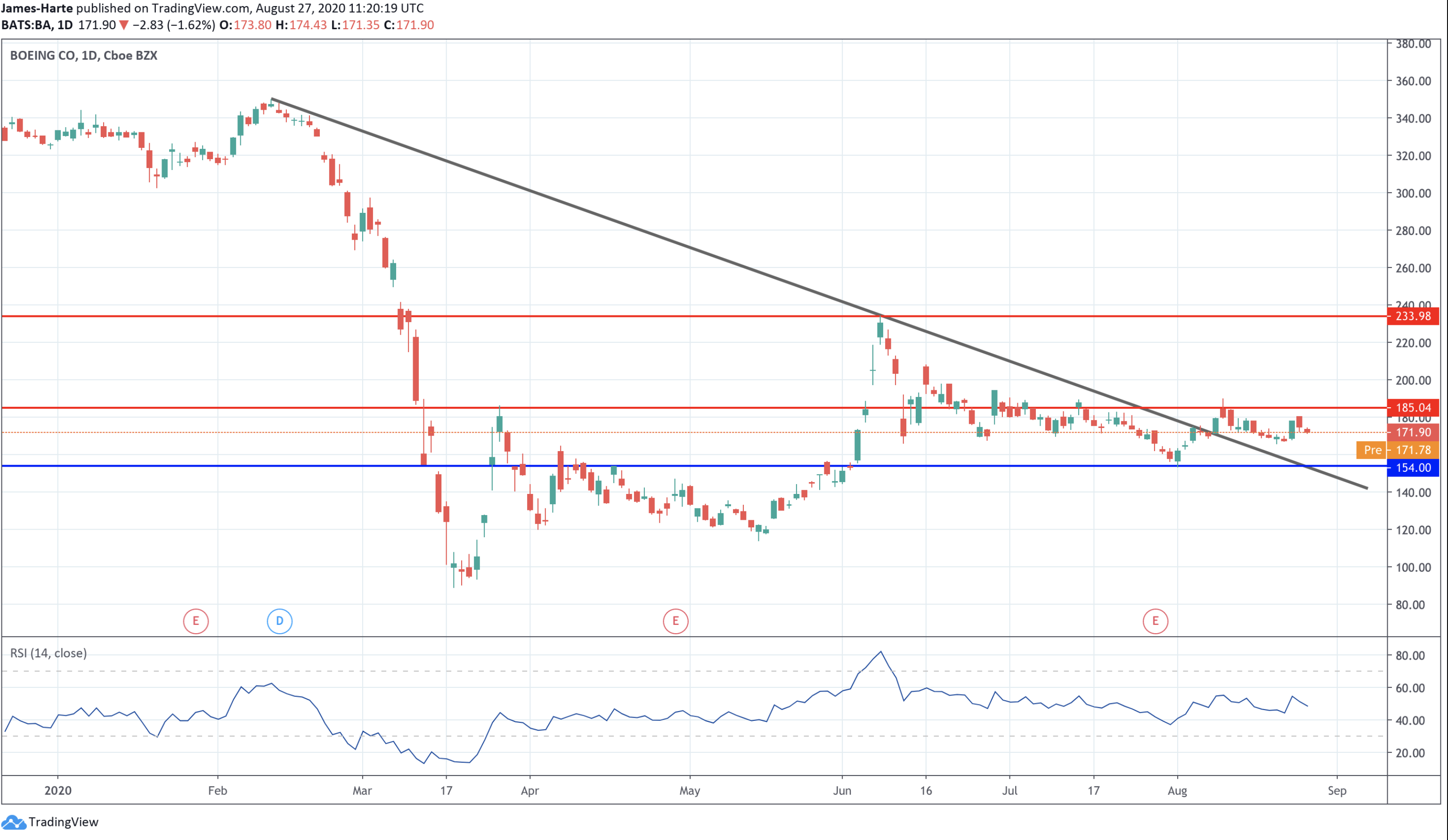 Boeing shares have been trading in a very docile sideways range over recent months. This came following the post-lockdown recovery highs around 233.98 and subsequent reversal lower.
Recently, having found support at the 154 level, Boeing shares have traded back above the bearish trend line from earlier 2020 highs. However, it has remained capped by the 185.04 resistance for now.
Have you been testing your strategy on a Demo Account? Sign up now and begin practicing!