EURUSD (1.11): The single currency enjoyed a rather strong rally in the previous weeks, which saw prices post a steady uptrend to test 1.13 resistance. Following the failure to break higher, EURUSD has started the correction to this strong rally which could see prices move lower towards 1.095 – 1.09 level of previous resistance, which could now be tested for support. As long as prices remain below 1.13 – 1.123 resistance, the bias remains to the downside. We expect to see a modest bounce off the 1.11 handle which could see a move back to 1.123 if there is a strong momentum. However, despite the short-term upside bounce, a test back to 1.095 – 1.09 is required in order to make any meaning of further rallies. 1.081 – 1.075 will be a key level to watch as a break of this support could signal a move lower to 1.0561.
Bias (D1): Downside
Support: 1.11
Resistance: 1.123
Technical Forecast: Prices remain within 1.123 resistance and 1.11 support ahead of a test to 1.095/1.09 support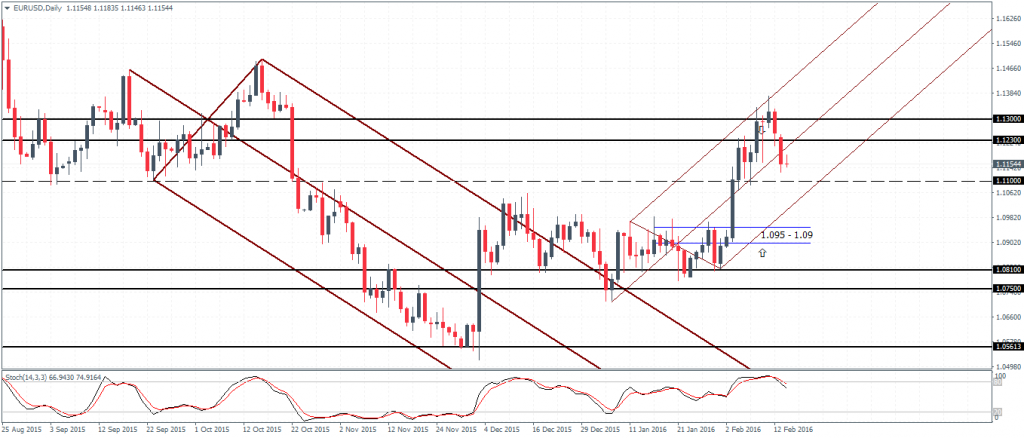 USDJPY (114): USDJPY is currently showing signs of a dip as prices posted a steady rally for the past two days. The dips are however likely to remain limited, but in the event of a break below the 112.5 support, the further downside cannot be ruled out. Any dips are likely to remain limited as USDJPY could possibly see a correction towards 118.1 which was previously a support level that gave way. A retest of this level to establish resistance could potentially open up further declines on a break of the current lower support at 112.50.
Bias (D1): Upside
Support: 112.5
Resistance: 118
Technical Forecast: USDJPY is likely to test the resistance of 118, above 112.5 support, marking a correction before resuming a new downtrend
GBPUSD (1.44): The British Pound has been trading flat ever since prices tested 1.4635 level of resistance. The hidden bearish divergence indicates a correction to the downside. As long as 1.42 does not give way, GBPUSD remains range bound. A decline to 1.435 – 1.43 could, however, signal the end of the correction and if the support holds, the Cable could see a potential breakout to the upside. Following a break above 1.4635, 1.481 remains the next likely target to the upside. In the event of a break below 1.42, 1.41 will come into the next level of support.
Bias (D1): Sideways
Support: 1.42
Resistance: 1.463
Technical Forecast: GBPUSD to remain sideways within the specified support/resistance levels with a potential for an upside breakout
USDCAD (1.37): USDCAD has established minor resistance near 1.3958 – 1.3914 regions. A break out from the lower median line here could signal a decline to 1.345 – 1.338 to establish support against a previous resistance level. The upside gains are likely to be limited as long as the 1.3958 – 1.3914 resistance holds. In the event of a break higher, USDCAD could potentially move higher back to 1.4335. The consolidating triangle pattern, however, signals caution as an upside breakout could see prices move back higher while a breakout to the downside could signal a continuation to the recent leg of the downtrend.
Bias (D1): Downside
Support: 1.345
Resistance: 1.395
Technical Forecast: USDCAD remains biased to the downside, but the consolidating triangle points to a breakout in either direction
USDCHF (0.988): The sharp declines off the 1.015 resistance has sent the USDCHF lower breaking the support near 0.9928 – 0.9848. Price action is currently looking to correct this decline as a test back to the breakout level near 1.004 is likely. As long as prices retest this breakout level and remain below 1.015 resistance, USDCHF could remain biased to the downside. There is also a scope for price action to consolidate above 0.9928 and 1.015 following a breakout in either direction. To the upside, 1.026 will be the resistance to watch while to the downside, 0.9547 will be the support level of interest.
Bias (D1): Upside
Support: 0.9848
Resistance: 1.015
Technical Forecast: USDCHF remains biased to the downside as long as price remains below 1.015 resistance. A retest to the breakout at 1.004 is likely