Another week and another new chapter in the trade war saga has been written. Following Trump's recent implementation of tariffs on $34 billion worth of Chinese goods and China's subsequent retaliation of equal measure, the US has now announced plans for another import tariff on a list of Chinese goods totalling $200 billion to be implemented as early as September. Along with the list, President Trump threatened to add further tariffs if China retaliates.
6000 Items To Be Targeted
The list of goods which will be subject to the tariffs, which contains more than 6000 items, includes items such as minerals, clothing, TV components, electric lamps, burgular alarms, food products such as apple juice, mackerel and fish sticks as well as consumer goods such as handbags. The announcement noted that the public will have until the end of August to comment on the list before the new 10% tariff takes place.
According to the White House, the new tariffs are a reaction to inappropriate trade behaviour by China. Essentially, the US is looking for China to cease any practises that motivate the transfer of intellectual property such as design and product ideas to Chinese companies. One such practice is the requirement that overseas firms operating in China share ownership with local partners in order to access the Chinese market.
Trade wars have got the market shook! Why not check out our Q3 Market Outlook report to get some professional insights into the market!
US Trade Secretary's Comments
Speaking on the new list, US Trade Secretary Robert Lighthizer said that "For over a year, the Trump administration has patiently urged China to stop its unfair practices, open its market, and engage in true market competition,". Lighthizer also added that "China has not changed its behaviour — behaviour that puts the future of the US economy at risk. Rather than address our legitimate concerns, China has begun to retaliate against US products. There is no justification for such action,"
Commenting on the prospect of further retaliation by China, Robert Lighthizer, the US Trade Representative, said there was "no justification" for such action, saying that "As in the past, the United States is willing to engage in efforts that could lead to a resolution of our concerns about China's unfair trade practices and to China opening its market to US goods and services". Furthermore, Lighthizer said "In the meantime, we will remain vigilant in defending the ability of our workers and businesses to compete on a fair and reciprocal basis."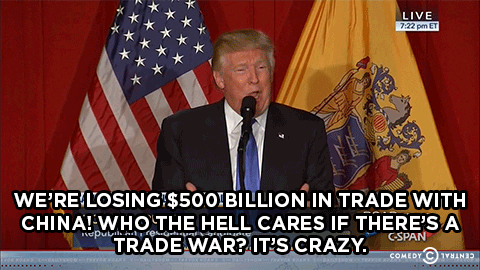 Potential Impact on US Rates
This further escalation of the trade war between the US and China represents a worrying development as the market feared a tit-for-tat environment where both sides continue to retaliate with greater menace. The initial goods under tariff are not expected to have a significant economic impact and as such the market shrugged off the move as one more symbolic of political power play than intent to do any economic harm.
However, if the US does press ahead with this new list of planned tariffs and China retaliates once again, the risk of visible economic harm will grow and investor sentiment will shift lower. The new list of goods includes a great deal of basic consumer goods which account for a large share of US imports from China and as such, a large portion of the US consumer price basket. Consequently, the new tariffs have the potential to cause a significant shift in consumer prices, which could affect the Fed's planned tightening strategy.
Beijing Slams US Plans
Commenting on the new list, Beijing slammed the "irrational US actions" calling the moves "totally unacceptable" and clarifying that China would indeed "fight back as usual". It seems that for now, Trump is fuelled by his growing support in the polls ahead of the upcoming mid term elections in November. It seems that Trump's bold, headline grabbing trade policies have polled well with voters, suggesting that there is little chance of the President moderating his approach.
For now, the market will wait to see what comments the American public make on the new list of tariffs but more importantly, what plans for retaliation the Chinese have, which will certainly be made clear sooner rather than later.