Following on from news of the US and Mexico agree to a deal on trade last week, both countries have now suggested that a new tri-country NAFTA deal including Canada is now on the brink of being announced. The rumors come despite Canadian PM Trudeau sticking adamantly to his guns over his priority demands, namely that any deal include an independent dispute resolution system to avoid Trump essentially throwing a tantrum and scrapping the deal.
Chapter 19 In Focus
Speaking on the matter, Trudeau said "We need to keep the Chapter 19 dispute resolution because that ensures that the rules are actually followed. And we know we have a president who doesn't always follow the rules as they're laid out." While Trump hasn't responded directly to these comments he did address the issue when speaking at the White House this week saying, "A lot of people are saying, 'How are you doing with Canada?' We'll let you know. We should know over the next two or three days. Maybe even today. But you will be the first to know."
Trump has previously threatened to pursue a bilateral deal with Mexico if Canada continues to oppose Trump's desired version of a new NAFTA and claims that if no deal can be struck with Canada it would be fine for the US but "won't be fine for Canada". However, he did also say "But we love Canada. They're our next-door neighbor. We've had a great relationship with them for many, many years."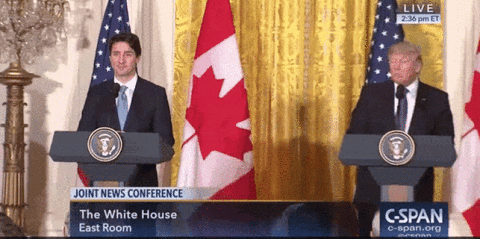 Late Night Negotiations
Talks between US and Canadian officials are ongoing currently as the two sides work to flesh out a deal. Commenting on the state of negotiations so far, Canadian Foreign Affairs Minister Chrystia Freeland said that talks were constructive, adding "We are making good progress. We continue to get a deeper and deeper understanding of the concerns on both sides."
Freeland has been meeting with US Trade Representative Robert Lighthizer and other key US officials and will resume talks today after lower-level officials from both sides worked "late into the night" on the talking points of the deal, saying "We sent them a number of issues to work on and they will report back to us in the morning, and we will then continue our negotiations".
Confrontational Trump Still A Roadblock
Trump's confrontational nature is still both a major issue within the agreement itself as well as a hurdle in agreeing to a deal. While the US president has appeared optimistic over the potential that a deal can be made, there are still key sticking points for Canadian president Trudeau who wants to protect "Canadian content" through maintaining NAFTA's current "cultural exemption" which gives Canada the ability, for example, to stop the US from attempting to take over Canadian media companies.
Speaking on the issue Trudeau said "We can't imagine a situation in which an American TV company or network could come up and buy radio stations or buy, you know, CTV for example. That would not be good for Canada. It wouldn't be good for our identity. It wouldn't be good for our sovereignty."
Trudeau Wants Steel & Aluminium Exemption
Trudeau's other key demands are for a permanent exemption from Trump's steel and aluminum tariffs and for Trump to remove the threat of auto-tariffs.  Canada is also seeking to continue protections for its dairy industry as well as to protect lumber exports to the US which have recently been hit with tariffs.
For now, the market is quietly hopeful that a deal will be struck and that any further trade tensions can be avoided. However, Canada has highlighted that it is in no hurry to agree on a deal and will not be rushed on the key issues.