Is Trump on The Ropes?
President Desperately Back-pedals Following Infamous Putin Press Conference Comments
Has Trump finally gone too far?
During a Presidency which has become characterised by controversy and spectacle it appears that Donald Trump might finally have gone too far. Trump's opinion poll ratings have been rising over recent months given his high-profile trade dispute with China which the President has labelled a noble crusade in defence of American industry and American workers.
The implementation of huge import tariffs on Chinese goods and the President's willingness to continue raising the stakes and not back down has seen his support base rising. However, during a press conference held in Helsinki this week Trump made a catastrophic error in embracing Russian President Putin confirming that he does not believe Putin or any Russian agents were responsible for meddling in the 2016 Presidential elections.
What is your knowledge like on economic data releases and how they affect the market? Learn more!
Trump Disappoints America
The move sparked outrage given that the FBI has recently declared that Russia was indisputably involved in the scandal culminating in the indictment of 12 Russian Military Intelligence agents on July 13th. This indictment comes five months after the US Department of Justice announced the indictment of 13 Russian nationals and three Russian companies for illegally running pro-Trump social media operations during the 2016 election which have been found to have exerted influence on the outcome of the vote.
During the course of the press conference when asked whether he agreed with the FBI finding that Russia was behind the hacking of the election, Trump said that he accepted President Putin's firm denial of any involvement and went as far as to say "I don't see any reason why it would be".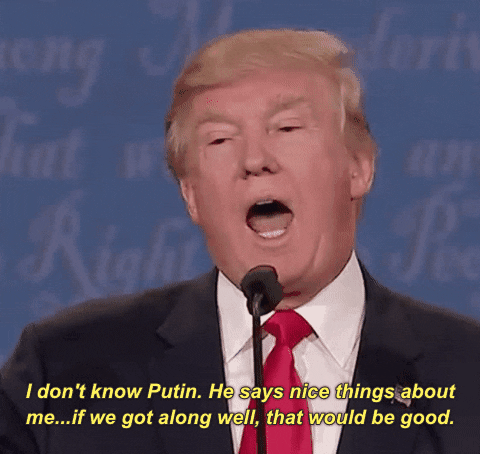 Trump Under Attack From Key Figures
The comments were received with immediate and sharp negative criticism. Trump was accused by the former CIA director of acting in a way tantamount to treason, and has come under fire across the board even from within members of his own party who are typically staunch supporters of the President.
Senior Republican, Senator John McCain, reacted saying that it was "one of the most disgraceful performances by an American president in memory". With Trump ally, Newt Gingrich, also saying that the comments were the "most serious mistake of his presidency".
Former CIA Director John O.Brennan commented on Twitter saying Donald Trump's press conference performance in Helsinki rises to & exceeds the threshold of "high crimes & misdemeanours." It was nothing short of treasonous. Not only were Trump's comments imbecilic, he is wholly in the pocket of Putin. Republican Patriots: Where are you???
Former Defense Secretary Chuck Hagel reiterated O.Brennan's comment but took a slightly more moderate line saying that  Trump "failed America today," adding  "I would not have said it the way John (Brennan) said it. John can say it the way he wants to say it. But, as to impeachment, we'll see how this plays out. That's a congressional responsibility and the Congress must do what they think is in the best interest of this country."
Commenting on the reaction to his meeting with Putin the President appeared outraged at the level of shock and dissatisfaction and took to Twitter simply saying "While I had a great meeting with NATO, raising vast amounts of money, I had an even better meeting with Vladimir Putin of Russia. Sadly, it is not being reported that way – the Fake News is going Crazy!"
Monitoring the POTUS account on twitter? Why not trade it?! Open your account now!
Trump Backpedals On Comments
In an even more bizarre twist of events, Trump then totally back-pedalled on his comments during the meeting and during a televised statement released yesterday where he said that he hadn't meant to let Russia of the hook and simply misspoke. According to the President, instead of saying "I don't see any reason why it would be" he had meant to say "I don't see any reason why it wouldn't be". Trump then added "let me be totally clear in saying that … I accept our intelligence community's conclusion," before finally saying "It could be other people also. There's a lot of people out there."
All in all, this situation is yet another typically Trumpian affair complete with confusion controversy and cover-ups.
Market Reaction
Outside of the political reaction the market reaction was once of relief as investors welcomed the show of unity between the two nations seeing US equities rising back to fresh five-month highs alongside a firm rally in the US Dollar.