German Elections: Merkel Leading Comfortably But Undecided Voters Still Pose Risks
46% of voters still classing themselves as undecided
CDU Leading Comfortable Race
The German election campaign continues to tick along as expected with the CDU/CSU maintaining a comfortable lead over the SPD, in second, who are expected to form a coalition government with Merkel's party following the voting in three weeks' time.
German Election: Introducing The Main Parties – From CDU to AfD
Following the French elections which saw far more risk of a euroskeptic, far-right party getting into power, the German elections have been comparatively uneventful. The main reason for this is the similarity between the policy programmes set forth by the two leading parties which both sides calling for a mix of greater infrastructure spending and tax reductions. Notably, there has been a distinct lack of focus on more important yet controversial issues such as potential eurozone reforms or integration of refugees.
Schulz' Support Receding
Merkel is clearly on course for fourth term in office according to the latest polling results and despite a surge in support earlier in the year for Martin Schulz of the SPD shortly after he was selected as leader, the campaign appears to be fairly straightforward in terms of the incumbent chancellor retaining office. Schulz has struggled to build on the momentum he gained earlier in the year and has now lost support most notably in the traditional SPD stronghold of North Rhine-Westphalia where the SPD lost to the CDU in a federal election in May.
Schulz' frustration is clearly starting to show as he has started attacking Merkel not just on policy issues such as refugees, defence spending, and Turkey, but also on a more personal level. However, Merkel has maintained her professionalism and typical soft-spoken approach and has shrugged off Schulz' attacks without losing any credibility or popularity in the public eye.
Merkel Winning on Strong Economy
The backbone of Merkel's campaign has been the strong German economy with GDP growth on course for 2% in 2017, unemployment at a record low of 5.6%, alongside strengthening consumer confidence and private consumption. Additionally, the German government achieved a budget surplus of 18.3bln EUR while public debt remains at the low level of 67% of GDP.
Merkel has also benefited from external factors such as the election of Donald Trump as US President as well as dissipation in the refugee crisis which escalated over 2015/2016 and saw Merkel coming under intense public scrutiny. The shift in sentiment back towards Merkel is clear with the latest poll by Infratest Dimap reporting that 52% of those polled would prefer Merkel as Chancellor over just 30% for Schulz who was beaten by the incumbent in categories of leadership skills, trustworthiness and likeability.
Undecided Voters Still Pose A Risk
However, despite the comfortable lead and uneventful election campaign it would not be prudent to completely rule out a surprise result. Political events over the 18 months have reflected the unpredictable natures of voters. The SPD's Schulz has signalled that he intends to focus his on his campaign "leitmotif" of social justice over the next few weeks which could prove to be a rewarding strategy as social justice has been ranked the second most important topic among voters.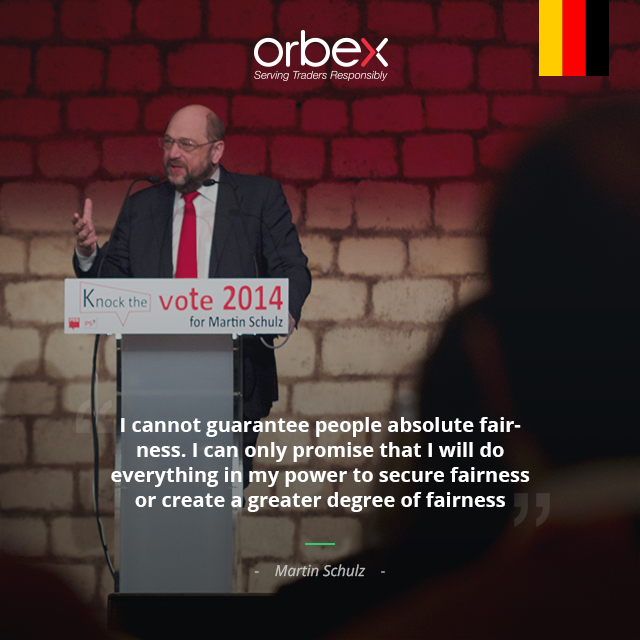 Unlike the recent French elections, the risk of a euroskeptic party gaining power is very limited. However, with 46% of voters still classing themselves as undecided, there is clearly still room for a surprise. The base case for the market however is a CDU/CSU & SPD grand-coalition which should see the political status-quo maintained.
AfD Facebook Hacked
Away from the main election campaign news things took more of an interesting turn this week. The satirical German party Die Partei, hacked into the AfD's facebook account and took control of several of their secret facebook groups. The total membership of the hijacked groups is around 180,000. Die Partei reportedly did so to expose how AfD use social media bots to populate the web with their far-right propaganda. Needless to say, the humiliated AfD spoke out against the action calling it "damaging" and "illegal".