BOC's Message Is Shifting
The BOC's message has shifted somewhat over recent months, and last night, Deputy Governor Wilkins moved the needle even further by suggesting that the bank will now consider whether current low rates are still required. After the May 24th BOC meeting, it seemed that the bank's message was turning more CAD-supportive and these latest comments, which came as part of an "economic update" appear to lay the groundwork for a tightening in Canadian monetary policy ahead of market expectations.
At its meeting last month, the BOC altered its statement somewhat to say that "the current degree of monetary stimulus is appropriate at present". The previous version said that "the current stance of monetary policy is still appropriate". In these latest comments, DG Wilkins said that "the governing council will be assessing whether all of the considerable monetary policy stimulus presently in place is still required".
Economy Growing Well
Wilkins also sounded rather optimistic about the overall economic environment with growth broadening and the economy adjusting to lower oil. Indeed, Wilkins said that Q1 growth had been "pretty impressive" and that "what is encouraging is that this growth is not being driven by just a few key industries…The data show that more than 70 percent of industries have been expanding – a rate we have not seen since the oil price shock. That is the kind of diversity that helps support strong and sustained overall growth."
Annualised growth now sits at 3.7%, marking a strong move higher from the prior 2.7% reading.
Regarding inflation, the Deputy Governor noted that the measure still remains below the bank's target but added that the BOC needs to focus on the future evolution of growth and not only the present environment saying that "Monetary policy actions influence financial conditions and economic decisions right away but can take as long as two years to have their full effect on inflation."
Will BOC Follow the Fed?
The BOC had previously stated that they were not in a rush to follow the Fed saying that the two countries are in different stages of the business cycle and that raising rates prematurely would risk causing a recession in Canada. However, in light of these latest comments, markets will likely be reassessing their view on this matter and a further rate rise from the Fed this week could see hawkish expectations for the BOC increase further.
Market Reaction & Technical Perspective
CAD surged in response to the comments, which seemingly caught the market off-guard, with USDCAD seeing its biggest one-day decline since January.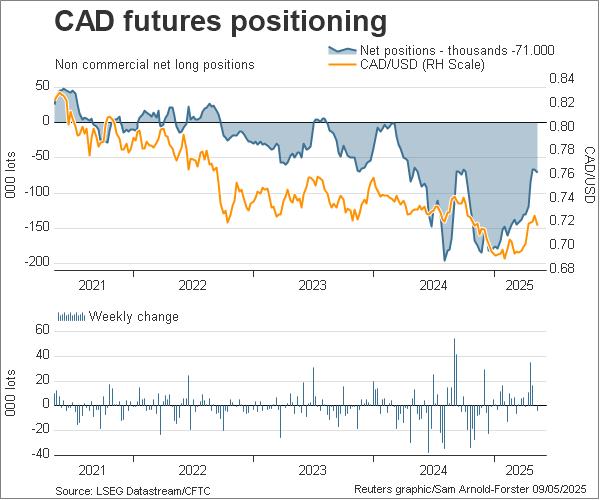 Institutional investors had recently built their CAD short positions to record levels, so there is plenty of room for a deeper squeeze here on short-covering.
USDCAD is fast approaching the rising channel support, running from last year's lows, which coincides with key structural support at the April low of 1.3225. This will be a key pivot for the Loonie; a break here will open the way for a test of deeper support at the year to date lows around 1.30 while a bounce should put the focus on a retest of the 1.3380 level.
CADJPY held the rising trend line support from last year's lows and had since turned higher within the contracting triangle pattern that has formed over the last few months. Traders will be closely watching the triangle resistance now as a break here could pave the way for a stronger move higher. JPY has been under pressure recently from improved risk sentiment and weaker JPY data so a sharp short covering in CAD could provide the catalyst for more upside.