Theresa May, British Prime Minister
Political Events Driving FX Markets
Over the last 12 months, markets have been increasingly driven by political events. Just under 12 months on from the Brexit referendum which rocked markets last year, we have seen several key events such as the US Presidential elections and more recently the Austrian, Dutch and French general elections. Traders now turn their attention back to Britain once again as voters take to the polls on June 8th to vote in the general election.
Sterling Surged on Conservative Show of Strength
When current PM Theresa May announced the surprise election in April, Sterling initially surged higher as markets interpreted the move as a show of strength by the conservative party leader to assert a stronger majority in parliament and bolster her position heading into the Brexit negotiations which officially commenced when Article 50 was triggered in March.
How Has Sterling Reacted Over Past Elections?
To gain some insight into how GBP might react to this election, we can, of course, look back at prior election results and the subsequent movement of the exchange rate. Typically, the dynamic that has played out has been that GBP tends to weaken ahead of the election and then gain afterward, in the event of a Conservative win; or weaken ahead of the election and show a muted reaction in the event of a Labour win.
For example, in 2010 when Conservative candidate David Cameron was elected to office, GBPUSD was down around 5% ahead of the election and then recovered by 7.5% in the months following the election. On the other hand, in 2001 when Labour candidate Tony Blair was re-elected to office, GBPUSD was down around 4.5% ahead of the election and simply recovered its losses following the result.
Why Does Sterling React Differently to Labour & Conservatives?
One of the reasons why a Conservative victory tends to see GBP appreciate more is that the Conservative party is viewed as a business-friendly party who will look to lower corporate taxes and lighten regulation, thus increasing investment into the country. On the other hand, Labour is traditionally viewed as less business-friendly, looking to increase corporate taxes and increase regulation, thus providing less encouragement for investment into the country.
The same biases are just as true this time around, with Labour leader Jeremey Corbyn seeking to raise corporate taxes while Conservative leader Theresa May plans to further cut corporate taxes. However, the bigger issue which is affecting Sterling's skew between the two parties is Brexit.
Brexit Remains the Key Issue
Brexit has by far been the biggest driver of GBP flows over the last 12 months, and constant developments within the Brexit landscape have driven fluctuations in the exchange rate on a regular basis. Heading into this general election, the issue of Brexit is just as important and further complicates the picture about how the election outcome might affect the Pound.
A Conservative win is seen as strengthening Britain's negotiating power for Brexit talks as PM May has reaffirmed her commitment to negotiating fiercely to deliver the very best deal for Britain and has said that she is prepared to walk away from the EU without any deal rather than compromise on key issues, such as the free movement of people.
However, Jeremy Corbyn has made it clear that Brexit negotiations are not his top priority and as such, markets are concerned about how the UK could come out of the Brexit negotiations if the Labour leader is elected.
Indeed, already we have seen GBP reacting to polling results with strong readings for the Conservative party boosting Sterling while recent readings showing a narrowing of the Conservative lead have weighed on GBP.
Political Events Clouded with Uncertainty
As recent political events have proven, forecasting outcomes in these scenarios is particularly fraught with difficulty, and the only thing that looks certain at this point is that there is likely to be a lot of volatility around the election.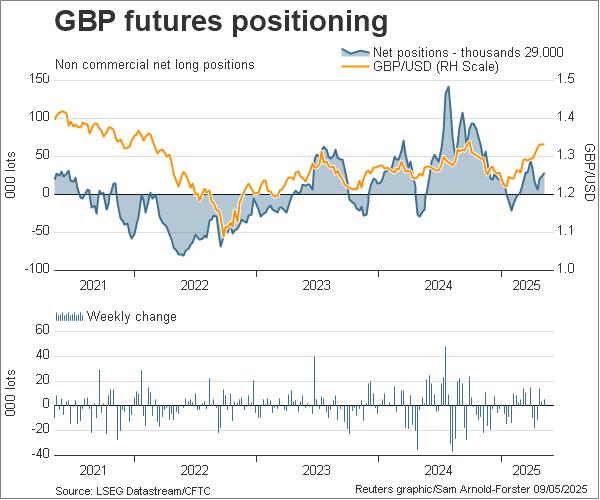 A Conservative victory seems largely priced in and looking at institutional positioning data shown on the CFTC's COT report you can see that short positioning has been hugely reversed to near neutral levels. Considering this, from a risk:reward perspective it seems that GBP has more to lose from a Labour victory than to gain from a Conservative victory, and so downside trades would appear to offer bigger returns.
Technical Perspective
Having broken out of the bearish channel (in yellow) formed since October 2016, GBPUSD also made its way back above key structural resistance at the 1.2770s-1.2850s post-Brexit lows. Price is now challenging this level from above which is so far acting as support. This area remains a key pivot for the price, and a break below this level should signal further downside. Further support comes in at a retest of the broken bearish channel resistance (in yellow). To the topside, the next key resistance level will be a retest of the July 2016 highs around 1.3440s-1.35s.