Just weeks out from the first round of voting in the French elections and centrist candidate Macron and far-right candidate Le Pen stand neck and neck in the polls. However, in the latest televised debate, Le Pen fell far behind.
Candidates Clash in Live Debate
The debate saw 11 candidates debating over four hours and has been described as a "free for all". Including in the debate alongside the 5 main candidates were six "little" candidates who score between 0.5% and 4% in the polls. This made for an extremely interesting event where the main candidates came under attack from the candidates who were deemed to have "nothing to lose".
LE PEN POLLS RECORD HIGH 47% https://t.co/UsTMnClUta

— Westmonster (@WestmonsterUK) April 5, 2017
Phillip Poutou, head of the New Anti-Capitalist Party, attacked Le Pen saying that the far-right candidate seemed to think that being anti-European made it acceptable to steal EU money. He also criticised her for using her immunity as an MEP to refuse to address police enquiries regarding the use of EU funds to pay party workers. Francois Fillon also came under attack from the Trotskyist Poutou who chastised him over scandals involving falsified payments to his wife, accusing Fillon of "dipping into the till".
Poutou was not the only "little" candidate to attack Le Pen. Retired civil servant Francois Asselineau, criticised Le Pen for intending to waste time negotiating and holding a referendum to leave the Euro and the EU. Asselineau said he would immediately invoke Article 50 and promised the fastest possible "Frexit". Asselineau asserted that France gives the EU EUR23billion and receives only EUR14billion in return.
The least scathed "big" candidate of the debate was Macron who seemed hurt only by Asselineau's comment that he "always agrees with everybody". The centrist candidate stood in defence of the EU and claimed to "carry Europe in his heart".
Sentiment Shift in The Euro
Despite many investment banks calling for parity over this year, it seems that there has been a sharp reversal in bearish sentiment by non-commercial participants as shown in the COT report. As you can see, despite the Euro remaining range-bound near lows and indeed, plumbing fresh lows at the start of this year, COT positioning has been moving from extreme short levels all the way back up to almost neutral levels. Indeed, non-commercials are on the verge of turning net-long EUR for the first time since 2014. The COT visual shows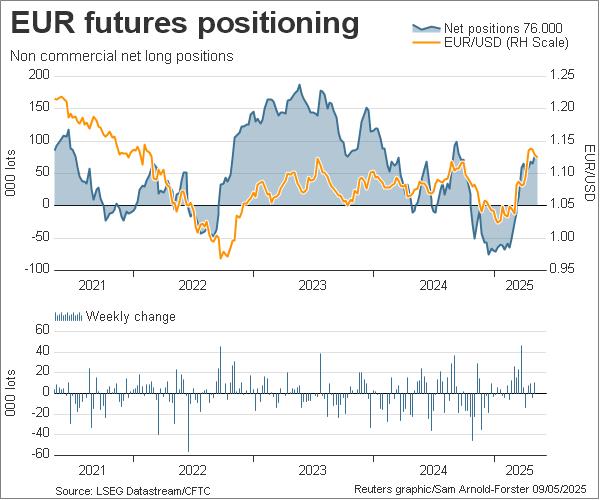 Indeed, non-commercials are on the verge of turning net-long EUR for the first time since 2014. The COT visual shows the huge divergence between price and positioning over the last two years with short positions reducing from below -200k+ positions to -8k contracts at present.
To a large extent, the reduction in short positions this year has been a function of reduced ECB easing expectations though the waning of Eurozone political risk has also helped. EUR started the year under pressure as Eurosceptic parties appeared to be surging in support across Europe. However, following the defeat of populist parties in both the Austrian and Dutch elections, investor seem less convinced of Le Pen's chances of success in the upcoming French elections.
Undecided Voters Cast Shadow Over Polling Results
The only element still fuelling uncertainty is the matter of the large percentage of currently undecided voters. It is difficult to write Le Pen off completely when there are still around 35% of voters who are undecided. Polling results could be understating Le Pen's true chances of success, and a last-minute surge in support among the undecided voters could see Le Pen striking a surprise victory.
In terms of market reaction, a Le Pen victory is likely to see a sharp rebuild in EUR short positions linked to EU & Euro exit fears. As a Macron victory appears the most likely outcome and seems largely baked into the price, it is unlikely that his victory would cause more than a small relief rally in EUR while a surprise victory for Le Pen could be devastating for EUR, taking markets by surprise.